Beacon of Light
by FaulknerBrowns Architects
Client Foundation of Light
Awards RIBA North East Award 2019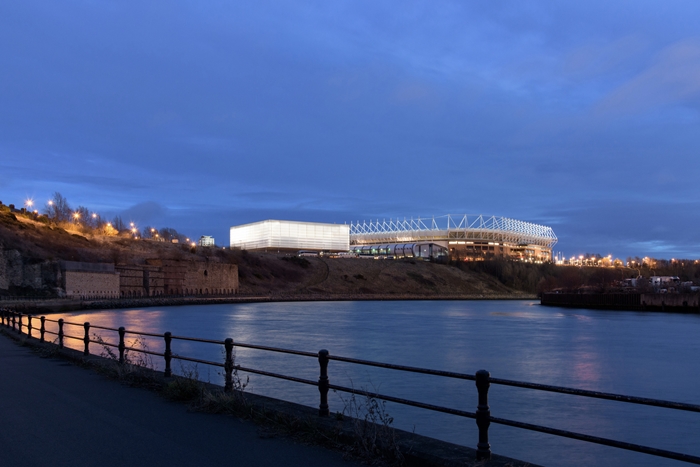 The Beacon of Light is a unique activity hub, consisting of engaging and interactive zones that host activities in education, health and fitness, sport and play and the world of work. The scheme stacks a roof-top 'Football Barn' under a lightweight umbrella structure, on top of shared community and education facilities and a controlled, insulated box, housing the sports hall. The arrangement minimises the overall footprint, maximising the external space for the 5 a side pitches facing the bend in the River Wear, and creates height, allowing an assertive addition to the adjacent pool and stadium buildings, and emphasis as a regional beacon.
The interior is arranged from the entrance onwards around a triple height street, running through to the river façade. The staircase rising through all floors encourages people to use it as their main point of circulation, increasing physical activity. Views unfold from the central street sideways into the sports hall and education spaces, outwards to the river, and upwards through the fabric of the building, including glimpses into the football barn on the roof. The sense of controlled drama and spatial interpenetration in the atrium is tempered by the calm white rendering of its surfaces. Lighting, furniture, signage and colour is restrained.
The building is constructed from a modular kit of parts including brickwork, polycarbonate cladding, curtain wall glazing, a steel frame, and a tensile PVC fabric covering a 60m x 60m two way spanning roof. The environmental strategy is economical and relevant. The materials are familiar, construction and detailing is straightforward. Yet the architecture of the building feels celebrated throughout; both in the stacked interior volumes and its enveloping façades, cool by day, alive at night, with showcase lighting – white or white/red.
The concept – a place where local people, grassroots sports clubs and regional businesses unite to participate in sports, learning and social activities, which was born from the Client's pledge to combat reported shortcomings in the region's education, health and employment skills - and the confidence, economy and delight of the detailed solution developed by the Design Team, is admirable.
Internal Area 11,222 m²
Contractor Tolent
Quantity Surveyor / Cost Consultant Identity Consult
Structural Engineers Shed
Environmental / M&E Engineers JH Partners