The Beam
by Feilden Clegg Bradley Studios
Client Sunderland City Council
Awards RIBA North East Award 2021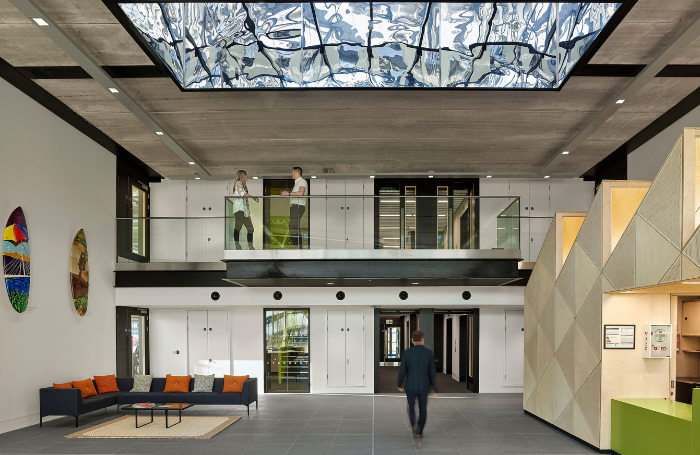 The Beam is the first phase of the regeneration of the Vaux site in Sunderland city centre. It currently stands as a landmark on the site, is easily recognisable as a design derived from its context and feels at ease with a city that is keen to regenerate. The external colonnade draws visitors into the building and provides a transition between the simple external landscaping and the fantastic views towards the harbour.

The angled eastern façade follows the old keel line to the river, and when approached from the city creates a line of sight and views of notable landmarks and the harbour. The entrance area is generous and reflects the overall approach to retain an industrial feel with exposed concrete soffits and steel on show. The diagonal bracing of the terrace and the entrance colonnade express the structure which talks to the industrial history of the area, making the Beam feel connected and immediately belonging to the city.
The building's design has a sophisticated and refreshing approach to sustainability and creates a healthy environment for its users. The office spaces are designed to be flexible in potential layout to accommodate tenants needs. They are naturally ventilated and designed in response to internal feel; the envelope provides openable windows and landscape format framed views with the profiled façade simultaneously providing shading from direct light and reflecting light deeper into the spaces from the metallic angled profiled panels below.
From the reception area, a large roof light is lined to reflect light into the reception and to announce the raised terrace above as the centrepiece of the design. The upper courtyard terrace sits the heart of the building, open to the sky but glazed to the east. This is a wonderful space that provides somewhere to meet, relax, or host events. Lined with climbing plants and facing the remarkable view, this protected space builds a sense of community among its users and frames views of the city in a new way.
The Beam is a remarkably well designed building that has been delivered within challenging circumstances. It serves as an exemplar for sustainable office design and successful speculative regeneration, and the key to this success is the way the design connects to its context.
Contractor company name Tolent Construction Ltd
Structural Engineers Cundall
Environmental/ M&E Engineers Desco
Quantity Surveyor Gleeds
Project Management Siglion / Igloo Regeneration
Acoustic Engineers Cundall
Access Consultant Proudlock Associates
Landscape Architects Landscape Projects LTD
Interior Design Feilden Clegg Bradley Studios
Lighting Design Desco