​Oldham Town Hall
by BDP

Client Oldham Council
Awards RIBA North West Award 2017 and RIBA North West Conservation Award 2017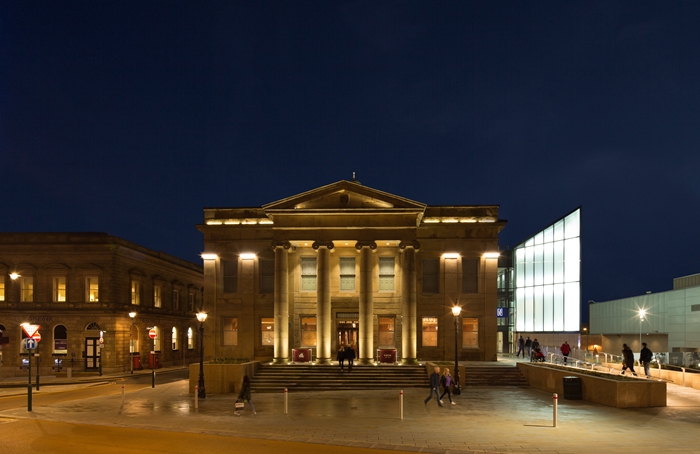 This is a somewhat unlikely conversion of the grand collection of Grade II listed civic buildings that formed Oldham's Town Hall. They might have been demolished but for the determination of the Council to preserve them. A number of uses were considered and tested before it was finally decided to convert the buildings to a multi-screen cinema. This was a regenerative project driven by the viability of a future use rather than the most appropriate fit.
The strategy for their re-use turned everything on its head. A vertically organised 'served' terrace of original buildings is now accessed by a 'servant' lateral circulation space. The original fronts facing Grieves Street and Yorkshire Street are now the backs and the side. The original back which used to be the deep part of an urban block has been opened up to become Oldham's new public square which is now overlooked by the cinema's new generous circulation space. Made up of a balance of translucent and transparent glazing, this new facade provides just the right relationship with the new Parliament Square.
The levels have been well managed. Entering the cinema at the top of the new square allows an active frontage of complementary uses to nestle under a new 'piano nobile' as the slope of the new square drops by two storeys. Perpendicular to this grand lateral facade, the space connects to each of the individual screens that have carefully occupied the original building. It is a bold composition and a very simple idea that has allowed the retention of a significant moment of Oldham's past and gained a strong urban participant in its future.


Contractor Morgan Sindall
Project Management Project Managers UK
Structural Engineer Kier Services
Environmental/M&E Engineer Foreman Roberts
M&E Performance Engineer Kier Services
Quantity Surveyor/Cost Consultant MACE Cost Consultancy
Landscape Architect BDP
Lighting Design BDP
Acoustic Engineer BDP
Fire Advisor Circulation Design Consultancy
Odeon Fit-Out Architect Ellis Williams Architects
Internal Area 8,066 m²