​Storyhouse
Architect - Bennetts Associates
Additional Architect - Ellis Williams Architects
Client - Cheshire West and Chester Council
Awards - RIBA North West Award 2018 and RIBA National Award 2018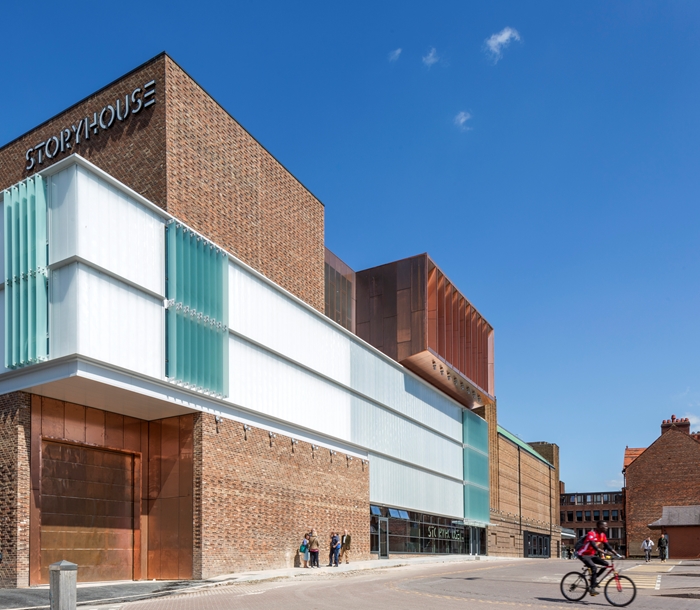 In a piece of radical robust conservation, the project is an interesting and relevant new combination of public building typologies – theatre and library.
The synergy and efficiency of the overlap of public spaces, through night and day, has been well exploited. The building offers a diverse range of connected spaces ranging from the intimate to the grand and theatrical, and achieves a continuous activation and accessibility to a very broad constituency.
The spaces are comfortable and clearly well liked and used, benefitting from the attention paid to acoustics and ceiling heights and the creation of pockets of space within a big suite of connected foyer spaces.
The overall strategy is clear and robust – the theatre is new and intersects with the retained and revealed shell of the previous cinema – with a very theatrical use of the original proscenium.
A children's library occupies the high street facing former shop front – creating a charming suite of rooms – at one visible and highly inviting from the street, yet intimate and comfortable, usable by large or small groups.
The project is a convincing response to the question of how to activate a town centre through day and night, and of how to make culture fully and widely accessible.
Whilst taking cues from successful commercial spaces (book shops and big pubs), the project succeeds in creating a new atmosphere for a cultural venue – refreshingly free of commercial trappings, and delivering cultural access to people very much 'on their terms '.
The theatre design is a radical solution to the flexibility required by the organisation and their business model, namely to show both home-grown productions and larger touring shows. The theatre can morph from an 800-seat proscenium to a 500-seat thrust stage in an ingenious low-tech way.
This involves erecting a new stage within the main space - and undertaken twice a year this is cost-effective. The layout and structure have been cleverly resolved to give excellent sightlines and a comfortable well-proportioned hall in either configuration.
The highly theatrical stairs and bridges that access the theatre also serve a studio theatre and bar at the top of the building, in a nice move that creates a celebratory rooftop destination with a different ambience. Excellent back of house facilities includes long views across the distant landscape.
Externally the treatment is bold and well judged. The new brickwork is a sensitive complement to the original, an inventive interpretation and not slavish copy. A robust cast glass screen befits the scale of the building, opening to axial views predicating the wider connectivity in the emerging masterplan.
Location Chester
Internal Area 7,000m²
Contractor Kier
Theatre Consultant Charcoalblue
Structural Engineer WSP
Environmental/M&E Engineer Foreman Roberts
Acoustic Engineer Sandy Brown Associates
Planning Consultant WYG
Historic Building Advisor Tweed Nutall Warburton/Peter de Figueiredo
Project Management Buro Four
Interior Design Hannah Wehbeh