​Walk the Plank
Architect - Architectural Emporium
Client - Walk the Plank
Awards - RIBA North West Award 2018, RIBA Client of the Year 2018 - Sponsored by Tobermore and RIBA North West Emerging Practice of the Year 2018 - Sponsored by Taylor Maxwell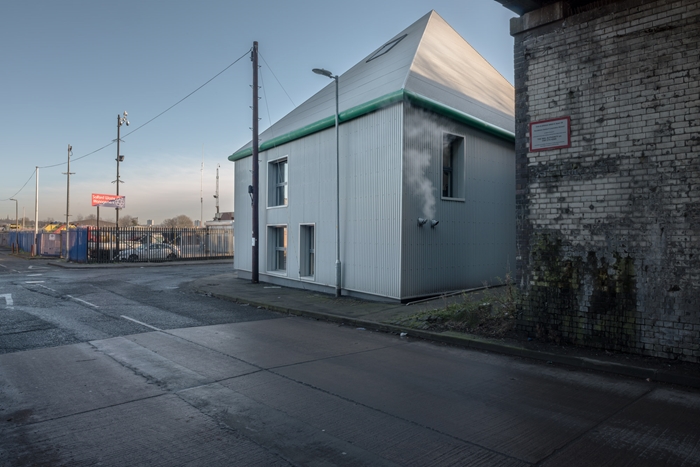 Walk the Plank is a theatre and production company with a wide and diverse range of work, including devising and making large-scale public theatrical and pyrotechnic productions, mentoring and training and working with disadvantaged groups to create theatre.
Their work requires a lot of space and a range of workshop conditions to straddle this range of industrial production and working intimately with people.
Working on a shoestring budget, they found a site in an industrial area – a rather hostile environment of waste plants and heavy lorries. The client commissioned an emerging architect practice to create a range of working spaces, and this has produced a successful collaboration.
The site strategy is bold and inventive, placing the new office building at the far end of the site on the busy crossroads, reached by a path running alongside the road. This gives the visitor an introductory promenade tour of the yards and workshops and creates a safe 'street' for all users.
Generously planted, this route contributes to softening and activating the harsh public realm whilst also providing safeguarding.
Situating the office building at the crossroads gives a clear statement of presence and activity in this forbidding lowly populated territory, with the pointed 'witches hat' roof acting as a sign of life visible even from the railway.
The architecture is economical and inventive. A beautiful sheltered courtyard is created by removing the roof of one of the existing buildings – a bold move for an organisation on a shoestring budget.
This courtyard forms a sheltered hub around which the other functions are loosely assembled – giving a delightful range and connectivity of working spaces.
A quirky interior refers to the company's history on a boat and produces a finer scale of privacy. The client is busy with the task of ameliorating the harshest of environments; with planting, artworks and their every own exuberant presence.
Location Salford
Internal Area 1,062m²
Contractor Skyline Property Solutions Limited
Project Management Through and Around
Quantity Surveyor Modero
Structural Engineer Elliot Bond Ltd
Environmental/M&E Engineer Waterman Group
Landscape Architect Serena Finzel