A Restorative Rural Retreat for Sartfell
by Foster Lomas
Client Private
Awards RIBA North West Award 2019, RIBA North West Sustainability Award 2019 - sponsored by Michelmersh and RIBA National Award 2019
This project was shortlisted for RIBA House of the Year 2019.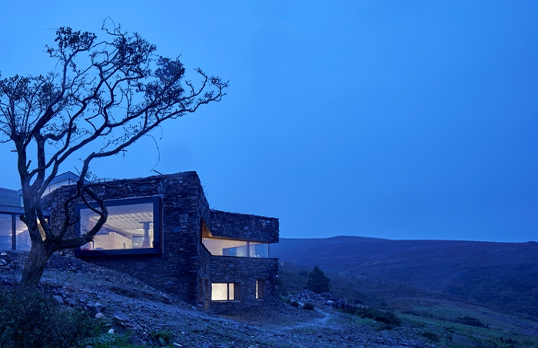 Moulded into the west facing slope of Sartfell on the Isle of Man, this retreat maximises breath-taking views overlooking the Irish Sea. A long horizontal slot window and thick concrete bunker walls give the interior a sheltered and embracing feel. Through a close response to a unique context, a strong architectural vision has created a very special place.
The building provides a comfortable thermal environment with a positive internal ambience. This is achieved via a massive internal cast concrete structure and exposed polished floors surrounded in a super insulated fabric faced in local stone. Heating is via a lake sourced heat pump with very low operating energy consumption. The flat roofs are likewise super-insulated with a carbon neutral turfed finish which compliments the overall thermal performance and durability of the roof as well as allowing the building to merge into the hill when viewed from the road above.
The long double glazed horizontal strip windows on the main south elevation through which the extensive views can be appreciated are also important in providing an excellent level of natural light to the interior of the primary open plan living space. The glazing is set deep within the walls with the overhang above and deep reveals providing solar shading in summer which along with the massive fabric minimise the risk of summer overheating. Mechanical ventilation is provided via a small MVHR plant. The building will eventually be independent of the infrastructure – drinking water supply from a borehole and waste water treatment via a bio-digester are already installed and a wind turbine will eventually supply most, if not all of the electrical energy needs.
From an embodied energy perspective the selection of in-situ concrete for the major wall and floor elements, is justified as part of the overall energy control strategy. The turf roofs and natural stone cladding also form part of good sustainable materiality which also includes sensitive use of timber in a traditional style for some upper suspended floors, for partitions and the face of the internal retaining walls. The retreat forms part of what is to become an ecological centre to be open to locals where schoolchildren can come and experience rare Manx flora and fauna. Constructed by local contractor Organic Construction Solutions whose team clearly appreciated the opportunity to take on the more complicated challenge presented by this unique building.
In summary, the retreat is an excellent response to the local landscape and climate, a classic "thick" building sitting into the hill with high thermal mass and superinsulation – so called "fabric first" with a simple solar control strategy, which together minimise overall energy demand. This, alongside modern energy supply, heat recovery and control systems minimise energy in use and provide a highly sustainable building solution.
Location: Isle of Man
Contractor: Organic Construction Solutions
Structural Engineers: Conisbee
Environmental / M&E Engineers: XCo2
Internal area: 300 m²