Mustard Tree
by OMI Architects
Client Mustard Tree
Awards RIBA North West Award 2019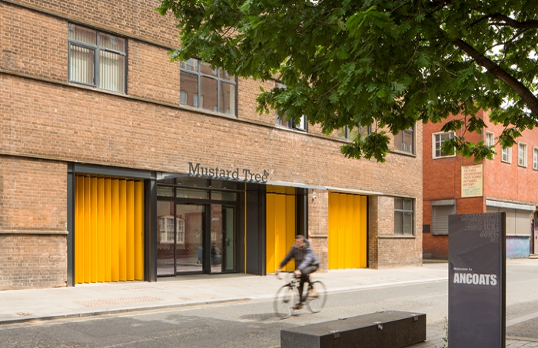 Demonstrating the power of architectural skill to unlock potential this project is a great example of how good design can embody the vision of a community. Commissioned by the charity Mustard Tree and tirelessly fundraised through their impressive team, the deliberately sparse conversion of two combined existing 1950s buildings has achieved the most impact with the least expenditure. The diligence and skill of the architect has enabled the client to be truly heard and a scheme to be delivered that has exceeded expectations.
A newly positioned entrance orientates the building to a more active pedestrian street linking the building to the rapidly regenerated neighbourhood. At the front door, mustard shutters welcome people visitors to try out a class or have a meal inside the centre. On entering, a precise structural cut out has created a double height space bringing light and navigational clarity to the building. Throughout the centre, rigorous, simple adjustments to layout and careful cutting have tailored the building to the charity's needs whilst also leaving room for further change and the flexible requirements of constantly changing activities in the building.
The Mustard Tree Centre has transformed a very inefficient 50s factory building through simple measures of much improved roof insulation, remotely opening roof lights to provide natural light and ventilation and free cooling to central areas, high efficiency condensing boilers and modern LED lighting which together provide far greater comfort at much lower energy demand. In this the project demonstrates how a building of this era can be transformed in energy efficiency terms for the absolute minimum cost. The function of the building in providing training in arts and craft skills with follow-on routes into work and artistic fulfilment has considerably enhanced the centre's role in the social sustainability of the local area.
In commissioning the project the charity worried that a shiny new building may be off-putting to the centre's vulnerable users, they wanted the spirit of the old Mustard Tree – welcoming, evolving, unintimidating - to remain in the new. This may be architecture with a little 'a' but it has a place at the table of the highest of architectural achievements.
Location: Manchester
Contractor: Armitage Construction
Quantity Surveyor: Poole Dick
Structural Engineers: DP2
Environmental / M&E Engineers: Viridian
Internal area: 2,650 m²