Pele Tower House
by Woollacott Gilmartin Architects
Client Private client
Award RIBA North West Award 2021 and RIBA National Award 2021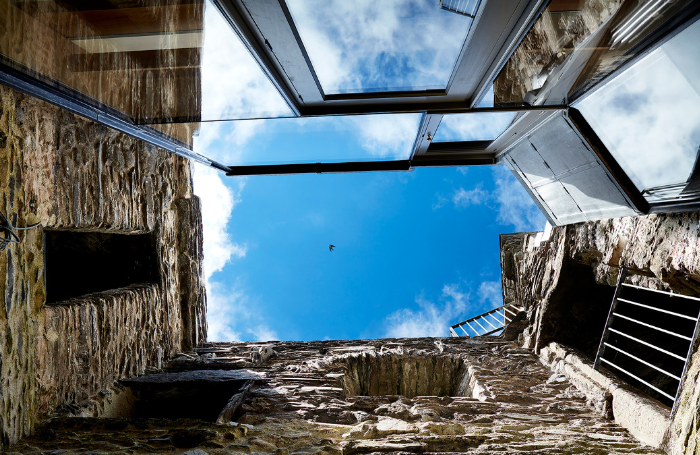 This is a project which displays considerable inventiveness and sensitivity in meeting the challenges of transforming a remarkable, but decaying, group of historic buildings into a 21st century family home. Considerable love and care have gone into the works, from client and architect, resulting in a scheme of real delight and personality.
Highly characterful, and displaying multiple layers of history, the buildings sit in a spectacular setting at the head of a valley. The works enhance both building and landscape, removing modern farming structures and extensive areas of hardstanding. Externally the interventions are modest and understated, responding to the qualities and materials of the historic structures. The 14th century Pele Tower's character as a ruin – a memorable and long-standing feature of the site - has been successfully retained by deeply recessing new glazing within the massive depth of the walls, creating shadow externally and beautifully illuminated reveals to the interior spaces.
Internally, the project unfolds in a series of episodic events reflecting the diverse age, significance and character of the different elements of the existing buildings. Historic elements, however humble, have been retained. Modern additions can be clearly read as distinct from the historic fabric, whilst maintaining an effective dialogue between new and old.
Much of the design and fabrication has taken place on site through an unusually collaborative relationship between architect, local contractor, and craftsmen and this is reflected in the display of traditional skills and craftsmanship, in particular the bespoke joinery. The careful treatment of internal walls, and the sensitive repointing and repair of the external walls show a real understanding of the original construction and specific local building techniques.
Despite an apparent lightness of touch, the scheme works hard to upgrade the environmental performance of the retained existing buildings to modern standards of insulation, air tightness and thermal bridging, all while working within considerable conservation challenges of the listed buildings. Careful upgrading of the existing fabric, in a sensitive and pragmatic way, has realised considerable benefits in terms of reduced energy use and creating a more comfortable place to live. The successful negotiation of the difficult balance between upgrading the existing structures and maintaining their character is a particular triumph of the scheme.
This sensitive and sustainable approach to the existing building is complemented by renewable energy generation from ground source heat pumps and a micro-hydroelectric scheme which produces more energy than the house consumes, further reducing its carbon footprint. In the wider landscape, extensive hard standing from farming activities has been returned to pasture and the client is undertaking landscape restoration initiatives, in collaboration with the local community, to improve biodiversity.
The client and architect are to be applauded for the holistic approach taken in a project which has safeguarded the future of these historic structures, embracing conservation and sustainability in the creation of a unique and delightful scheme which brings new qualities to this already outstanding site.
Location: Cumbria
Contractor: Adam Carr Building Contractor
Archaeologist: John Trippier Archaeology
Ecological Consultant: Lucy Gibson Consulting
Structural Engineers: Reid Jones Partnership Ltd
Environmental Energy Consultants: Doherty Energy Ltd
Historic Building Conservation: Jubb Clews
Internal area: 678 m²