Special Exhibitions Gallery, Science and Industry Museum
by Carmody Groarke
Client Science and Industry Museum
Award RIBA North West Award 2022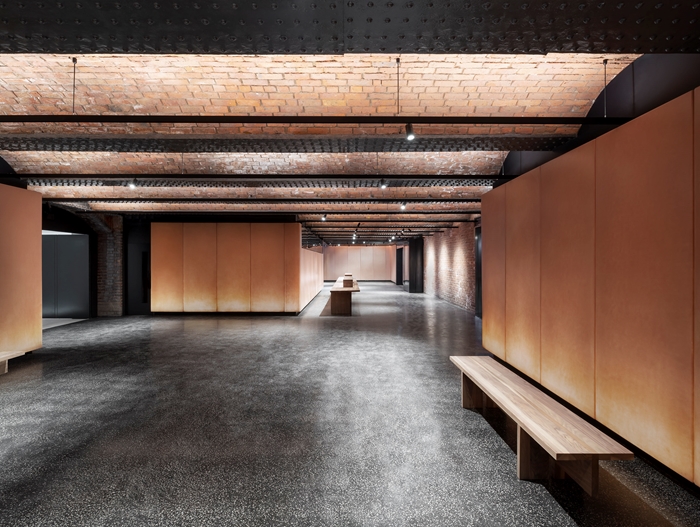 Delivered as part of a master plan with an aim of de-carbonising the estate, the Special Exhibitions Gallery repurposes a basement storage area and sets up future lower ground connections for public access across the museum campus. The Grade II Listed warehouse structure dates back to 1880s and its industrial splendour has been re-awakened with simple and intelligent design.
A new fully accessible entrance has been introduced to what was a dark undercroft area to announce the museum access as part of the future new route through the site. Also an entrance for moving displays into the building, this new foyer has been carefully planned to accommodate both gallery guests and goods. The foyer area also sits beyond the building line without ownership of the land above so a confident approach has been taken to unavoidable water ingress through the historic fabric.
Back-lit full height fibre-glass panelled walls transform the visitor experience and welcome area; cleverly contrasting with the brickwork warehouse aesthetic whilst blending in tone. A continuous polished resin floor uniquely incorporates rose granite chips to further mediate old and new.
Creating a welcoming draw to eventual users of the new entrance from outside, the illuminated fibre-glass panels also create a dramatic and stimulating environment within the historic building. The gallery itself applies meticulous and simple planning of services installations and coordination to deliver an environmental, thermally stable exhibition space with reduced energy use. This goes beyond low energy fittings to the installation of open loop heat pumps and the creation of new walls, bolstered with hygroscopic mass to reduce the need for dehumidification.
The gallery provides an exemplary low carbon solution to the exhibition space. Its success is in the unique foyer design concept and gallery execution where the 'special' is created through design coordination and visual simplicity. Establishing both the master plan connections and level of expectation for low-energy gallery design, this first phase of the wider regeneration scheme was delivered under budget, provides economic stability through environmental design, and stimulates users through re-invention of the existing industrial structure.
Location Manchester
Contractor HH Smith & Sons
Structural Engineers Price & Myers
Project Management Gardiner & Theobald
Lighting Design PJC Light Studio Limited
Building Services Engineer Skelly & Couch
Quantity Surveyor Appleyard & Trew
Planning Consultants Deloitte Real Estate
Heritage Consultants Heritage Architecture
Fire Engineers Design Fire Consultants
Building Control Butler & Young
Health and Safety PFB Construction Management Services
Archaeologist Salford Archaeology