The Fratry
by Feilden Fowles
Client Carlisle Cathedral
Awards RIBA North West Award 2022, RIBA North West Project Architect of the Year 2022 and RIBA National Award 2022 (sponsored by Forterra)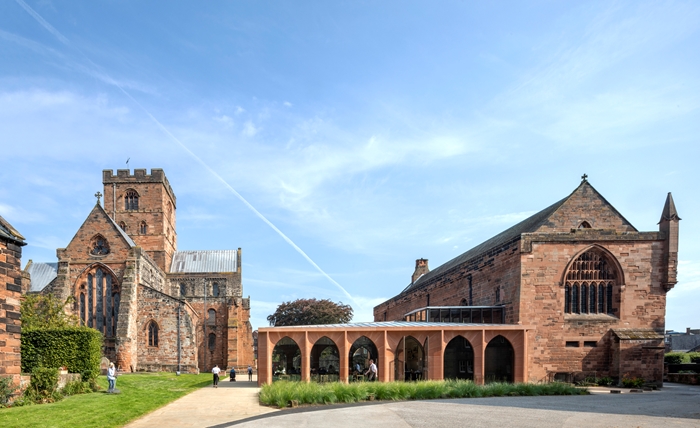 The project articulates a journey from concept to occupation; creating an engaging piece of placemaking where community input has enabled the delivery of social value. The architects have undertaken an award-winning piece of discerning conservation, creating a new build café facility whilst restoring and re-purposing the existing fratry with community space.
The project was lottery funded and the café had to be visible to bring in revenue. The resultant building is sited to reform the cloister and thereby create a courtyard space for external use and connections back into the town. Although visible to the general public, there was a desire to control the height of the café to retain a sightline to surrounding historic buildings.
The Fratry is a lesson in materiality and innovation where the architect has embraced the role of master builder; teasing the brief into a delightful solution. Every detail has been interrogated and every pound maximised. The architect has led the team to achieve the best quality possible within budget and has ensured lessons in the approach of past craftspeople live on.
The café's arches are self-supporting CNC cut stone, sourced and cut locally. The subtle choice of degrees of depth and shadowing, along with attention to the grain of each piece of stone adds a delightful level of sophistication to the elevations. The connection back to the historic fratry is designed and constructed in a unique structural bronze diagrid, thereby creating an elegant and minimal foyer to the existing building and contributing a level of ingenuity in the mediating of old and new.
The client's satisfaction is clear – the vision was to extend their offering to the wider population and the project has delivered on every level. The commitment and shared ambition of the architect, client, and voluntary advisor is clear to see, and the resultant uplifting spirit of the community is evident in the throng of the café use, educational basement space, and general passers-by. The Fratry delivers an exemplary narrative of conservation, re-purposing, and ingenuity in new build construction whilst delivering a piece of city pride and inclusivity.
Location Carlisle
Contractor Cubby Construction
Structural Engineers Structure Workshop
Project Management Frank Whittle Partnership
Environmental / M&E Engineers Bob Costello Associates
Conservation Structural Engineers Stand Engineers
Surveyor of the Fabric Buttress