​Incurvo
by Adrian James Architects
Client Private
Awards RIBA South Award 2017 and RIBA South Sustainability Award 2017 - sponsored by Geberit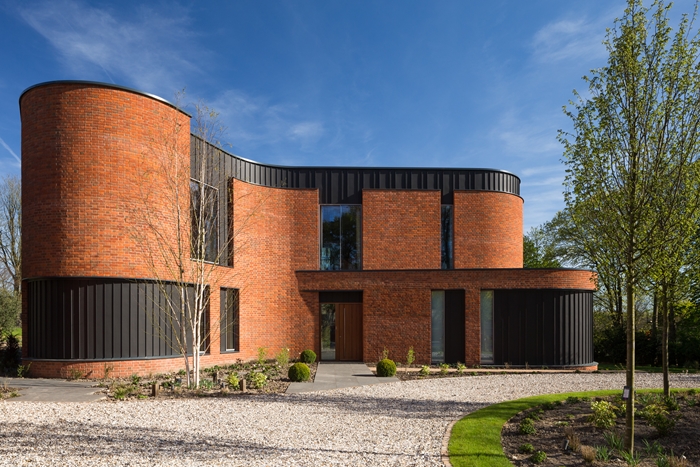 A replacement house, demolishing existing 1920s property which wasn't fit for purpose according to owners (numerous small rooms; inefficient to light and heat). The new building is well positioned within the landscaped garden and surrounding countryside. Extensive earthworks were required to create curved terraces, which created shallow ramped routes around the house so that house and landscape flow.

The building is well-detailed: window frames and internal blind tracks are recessed cleanly into wall reveals, so there is no intrusion or obstruction of view; handmade bricks are used so that they give a softer-edged appearance to the curves along with recessed mortar joints to emphasise the brick and to create shadow and texture; the play in the rhythm of the vertical joints of the zinc cladding which intensifies as it goes around a curve (this might just be down to buildability, but the justification of referencing music paper - the owners are keen musicians - seemed plausible and playful enough).

Although it could be considered a large house, the curved walls and windows give an intimate feel to each of the internal spaces and rooms that are created within its curvaceous plan. This offers a domesticity which feels modest in scale. Each room is also individually styled so that the owners' personality comes through and makes the property feel lived-in and loved. Standing in front of the curved windows gave a sense of being closer to outside/nature with increased panorama/view in field of vision.

The jury noted that the owners were commissioners of quality design – for example: for house design; for garden design; for interior elements (bespoke cabinetry, room divider screens and rugs). There was a clear rationale of building design and the qualities the clients wanted to achieve, including making allowances for alterations in future so they don't have to move (lifetime homes – space for platform lift, wide door openings).

This was not a re-development opportunity to turn around and make a quick profit, but a home to be lived in. The owners have lived in Goring for some considerable time and were keen to stay in the village, hence they bought up the old house for its plot. Incurvo is a well-conceived design that challenges the current trend of stacked rectangular boxes.


Contractor Trunk Low Energy Building
Structural Engineers Build Collective
Lighting Design VBK Lighting Design
Landscape Design Acres Wild
Services Engineer QODA Consulting
Internal Area 508 m²