​Magdalen College Library
by Wright & Wright Architects

Client Magdalen College
Awards RIBA South Award 2017 and RIBA South Conservation Award 2017 and RIBA National Award 2017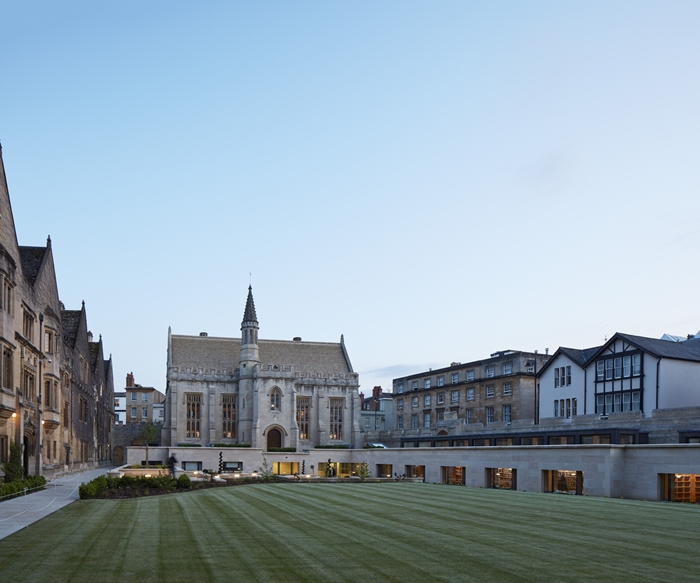 The project comprises the repair of the Buckler building, along with a new build semi-subterranean library to expand library facilities to modern standards. The sensitive siting and conception of the new build to create the new entrance and reading rooms as a plinth, mean the college quad is activated, but not dominated, by the new buildings. The understated addition does not compete with, or harm the setting of the historic context, despite significantly adding to it.

The landscaping is well thought through, given the traditional language of a quad, and both facilitates full access and invites users to inhabit the space, whilst working with the marked change in level. Inside the building, the carefully-detailed oak furniture, book stacks and study areas creates a studious atmosphere. The spaces use the 'Bodleian' chair by Barber Osgerby, selected by students who had used the new Weston Library, for which the chair was created. We heard several views from students, who explained the convenience, utility and enjoyment of the expanded facility, particularly compared with other Oxford colleges.

The repair and restoration of the Buckler building meant stripping the harmful alterations made previously, addition of an access stair to the old entrance space, giving access to a new 'three-storey' piece of furniture to create book stack, reading room and study areas within the volume of the former school. The repairs were well measured, and undertaken with a 'light touch' so as not to lose the character or patina of age which are intrinsic to the value of the asset.

Clever additions of ventilation, above the gutter behind the parapet and thin 'aero-gel' insulation to the existing roof, allow the passive ventilation strategy to work, with the use of the chimneys as additional vent ducts: a clever but unobtrusive solution to the environmental credentials.


Contractor Stepnell Ltd
Structural Engineers Alan Baxter & Associates LLP
Environmental/M&E Engineers Max Fordham LLP
Fire/Building Regulations Menzies Partners Ltd
Acoustic Engineers Max Fordham LLP
Landscape Architects Dominic Cole Landscape Architects
Quantity Surveyor/Cost Consultant Gardiner & Theobald LLP
Internal Area 1,020 m²