​The Point
by Ayre Chamberlain Gaunt
Client Tadley & District Community Association
Awards RIBA South Award 2017 and RIBA South Emerging Practice of the Year 2017 - sponsored by Taylor Maxwell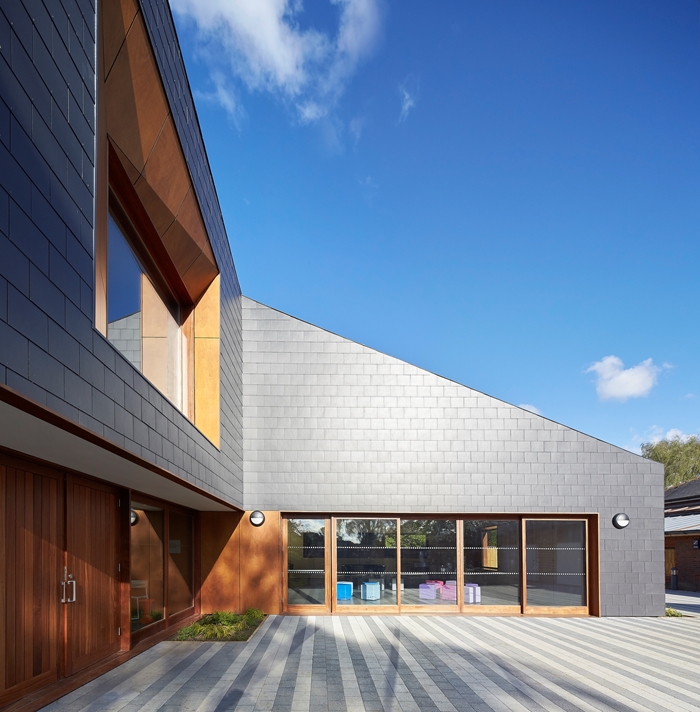 The community youth centre was delivered with a complex cocktail of funding. Sitting to the rear of existing community facilities, the new building was needed due to a lack of space dedicated to young people: the only available site was on a backlands site. The alternatives would have required removal of parts of the existing facility. The architects managed to create a building of genuine public benefit, as it could so easily have become a bland box.
The architectural ambition really lifts spirits, through the simple application of material in a confident manner and the form of the building which creates a little piece of outside space, like a piece of public realm.
The nature of the project means that this work of architecture will enrich the lives of many people, in a demographic where this enrichment may be very much out of the ordinary. Engagement with young people gave the architects ideas to develop within the building, through the impact of the scale, creating spaces with height and even generosity. One particular idea which the architects talked about with affection was that of a tree-house, making sense of the timber structure but also the interconnecting, internal windows, from the first floor down to the ground floor, looking down from above.

This would not have been possible if the architects had not challenged the client over the potential to build over two storeys. The resultant building means that not only are the range of spaces much richer, but the young people got their idea of a tree-house built into the fabric. Had the building not been two-storey, it would have lacked impact and there would have not been room for the outside space. The generous use of timber gives the building a coherence, particularly for a relatively low budget for a smaller building. Choice of the artificial slate as cladding is inventive, to do something out of the ordinary and of civic quality. The ingenuity of the architects meant this project was something special.


Contractor Francis Construction
Quantity Surveyor/Cost Consultant APS Associates
Structural Engineers KFR Consulting
Internal Area 410 m²