​​Warwick Hall Community Centre
by Acanthus Clews Architects
Client St. John the Baptist Church, Burford
Awards RIBA South Award 2017 and RIBA South Conservation Award 2017 and RIBA National Award 2017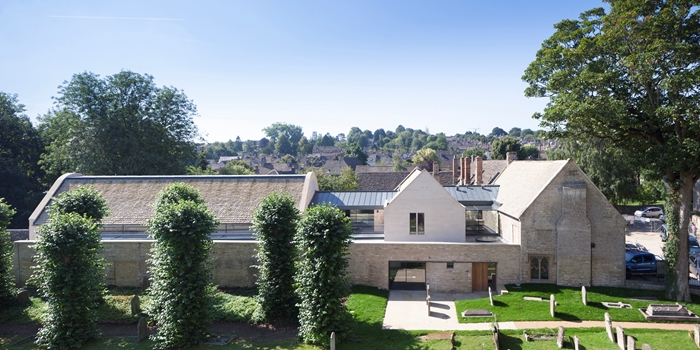 Impressively well-considered major extension and intervention within the curtilege of the Grade I listed church of St John the Baptist, to create much needed community facilities which were constrained within the existing building. The extension is to Warwick Hall, which is Grade II and the adjoining almshouses are Grade II*. The interventions went through extensive design development in terms of scale and massing, informed by the understanding and discovery of the histories of the buildings and place.

The design was unlocked by moving the access point into the churchyard and entering via a new access point through the old stone wall, allowing central entry to new facilities offering the flexible use of a range of community facilities for old and young. The well-considered new interventions and details work with the sensitive restoration and repair, revealing earlier uses of the retained and restored Warwick Hall building.

Intelligent client commissioning has resulted in a vibrant and bold community facility, enabling wider engagement with a meaningful work of architecture. The scheme works hard to understand and respond to the significance of the place and the built fabric: analysis of key aspects of that significance, and the value of any built fabric to be lost, was undertaken at an early stage to inform the design. This not only minimised any harm, but also informed the designing-in of added value to enrich users' experience of the historic context through the clever additions of the new elements.

The setting was all the more interesting, in that the Grade I listed church of St John the Baptist had been 'restored' in the 1870s in such a way that it was one of the cases that led William Morris to form the SPAB, so the wider site has some added history and sensitivity in terms of the positive or negative impact of quality of work to the asset.


Contractor Edgar Taylor Limited
Structural Engineer Price & Myers
Environmental/M&E Engineers Environmental Engineering Partnership
Quantity Surveyor/Cost Consultant Baqus Sworn King
Acoustic Engineers Arup Acoustics
Landscape Architects Clews Landscape
Lighting Design Firefly Lighting Design
Internal Area 941 m²