​Berkshire House
by Gregory Phillips Architects

Client Private
Awards RIBA South Award 2018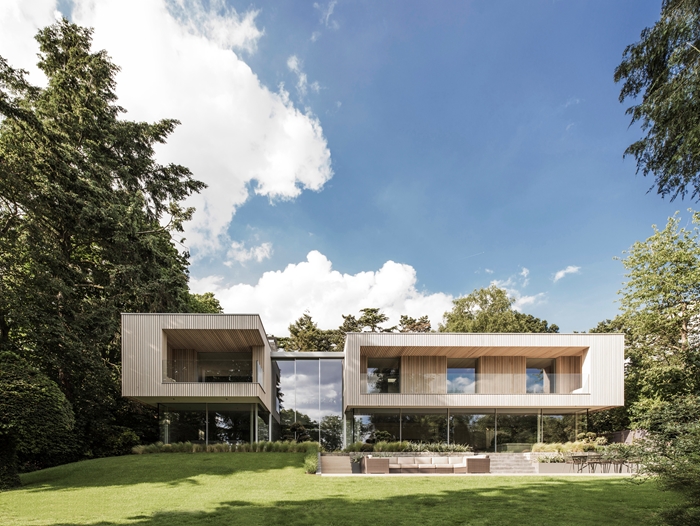 The Berkshire House is a pristine and immaculate exemplar of the early 21st century modern house style. With every detail finely honed and every façade carefully composed, the house is a shining example of carefully-considered, painstakingly-crafted architecture.
Many modern houses aspire to this level of cool Modern design, and most fail to make the mark in their composition, their detailing or their construction. This house stands out for the faultless finesse it has achieved at every scale.
The site is ideal for this type of house - a rectangular plot facing due south and sloping down to panoramic views.
The house follows the classic pattern for such sites: all the major living spaces and bedrooms face south and all the service spaces face north; the south side is largely glass and timber, the north side brick and concrete with small openings.
But within this standard arrangement the architects have achieved an outstanding level of spatial variety and sequence. The route from the forecourt passes through an etiolated colonnade, then turns into a dark low lobby before turning again to enter a majestic double-height dining hall, complete with a minstrels' bridge and a drop-dead glass wall addressing the stunning views. This is classic compression-and-release - but boy, it's done well.
The materials have been selected to fit a muted palette of greys and soft Scandinavian tones; their texture varying from rough brick through pale stained Western red cedar to polished grey concrete. Detailing is minimal and clinical: there is not a foot put wrong.
It is a joy to walk through the house and revel in the way materials, light, route, and space have all been modelled and modulated.
This may not be an innovative or challenging design - indeed it is absolutely textbook in its use of the contemporary language - but it doesn't matter when it is done this well. The spatial, material and detailed composition of the building is executed so eloquently and confidently, it has achieved excellence in its craft.

Contractor Relicpride Building Company
Structural Engineer Heyne Tillett Steel
Quantity Surveyor Sampson Associates
M&E Engineer Studio Nine
Lighting Design The Light Corporation
Ecology Simecology
Arboricultural SJ Stephens Associates
Internal Area 562 m²