​Big Data Institute
by Make Architects

Client The University of Oxford
Awards RIBA South Award 2018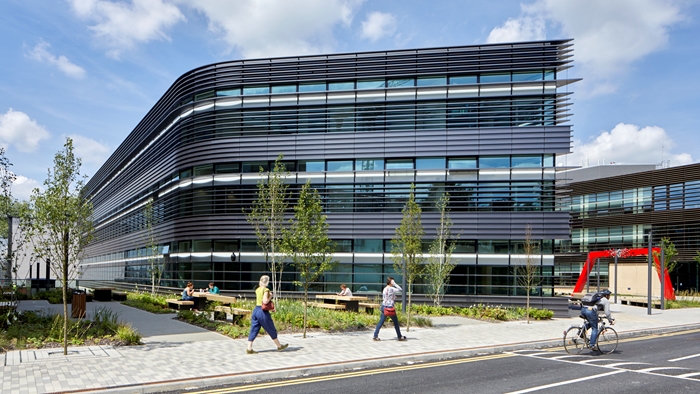 What a delightful workplace. Squeezed between other academic institutes in a dense masterplan on one of Oxford University's medical research campuses, the new Big Data Institute achieves an extraordinary level of spatial generosity internally. And all that space is naturally ventilated, with a ground-breaking and elaborate method for ensuring that cool fresh air reaches every corner.
This is a superb model for the 'dry lab' academic research buildings to come. The building houses analysts, who sift medical data to find patterns and formulate cures for the future. And there are lots of them beavering away at their terminals or laptops.
To prevent the occupants feeling isolated, the BDI is the very antithesis of the dingy cellular department buildings of the past. It is designed to give the occupants a sense of belonging, and to encourage interaction and collaboration within and across different disciplines.
The light, high-ceiling open-plan floorplates are arranged around a large central atrium.
Not very radical, but what distinguishes this atrium - beyond the beauty of its acoustic timber panels and deft handling of natural light - is the level of openness and engagement that every floor has with the space and across the space; there are no windows between office and atrium – it feels like one enormous multi-layered space.
That openness aids the innovative fresh air system too. Beneath the building is a literal concrete labyrinth, through which fresh air is pulled from the exterior so that it cools as it goes. This is then fed up through every floor, delivering comfort to every corner. The open sides to the atrium then allow the air out and up through the glass roof.
So this is a truly innovative building in its sustainable ventilation system; the first of its kind in UK academia. But it is also an exemplary building in the standard of working environment it achieves for the researchers within.
It does not shout about its innovation; there are no fancy vents or chimneys. Nor does it shout about its radical open work environment: there are no beanbags or foam footballs to kick around. This is a grown-up, understated workplace distinguished by the level of calm thoughtfulness that permeates every aspect of the design. It's quietly excellent.


Contractor Mace
Structural Engineer Peter Brett
M&E Engineer Long and Partners
Quantity Surveyor Arcadis
Project Management CPC
Landscape Architects LDA Design
Acoustic Engineers Hoare Lea
Access Consultant Peter Connell Assocaites
Interior Design Make Architects
Lighting Design Studio Fractal
Approved Inspector Bureau Veritas
BREEAM Advisor RES Design
Internal Area 7449 m²