​​Hubert Perrodo Building
by Design Engine Architects ltd
Client St Peter's College, Oxford
Awards RIBA South Award 2018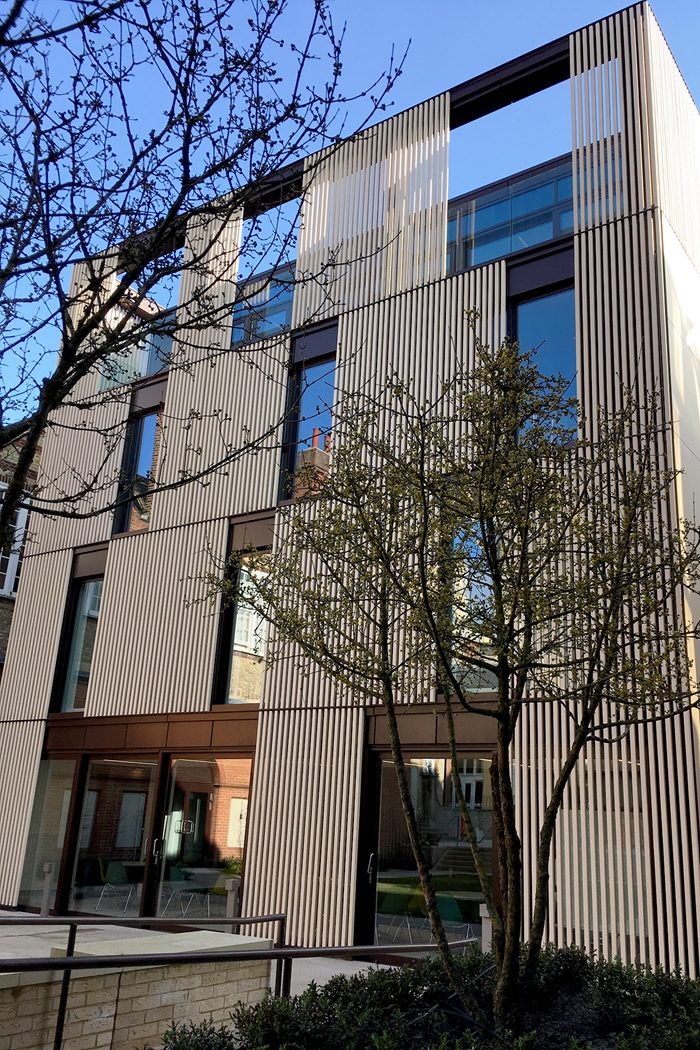 The Hubert Perrodo Building is small but perfectly formed. Designed to look as if it is simply sitting upon the paving at the end of the college quad, it feels like a piece of exquisitely crafted furniture. It is actually taller in elevation than its neighbours and has four floors chock full of accommodation to make the most of the tight site, but its size has been finely judged to give just enough airspace to its neighbours and not feel intrusive.
The project is not just the building: it includes the new landscaping of two contiguous quads which were in desperate need of an upgrade. They have been cleared of their clutter, re-ordered and judiciously planted to create pockets of privacy which do not impinge on the overall effect of calm spaciousness.
The result is that the college now boasts quads which are commensurate in spatial quality with its elders, a few minutes away. As much credit must be given for this to the landscape designers as to the architects, and to the client for not stinting in ambition or expense.
Where the new building now rests, there was once a collection of motley sheds huddling beneath the grim louring mass of the neighbours' three-storey flank wall. The quad desperately needed a better fourth side and the architects have stepped up to the plate and succeeded in perfectly plugging the gap.
The design of the building is admirably pure: unlike the neighbours' – new and old – compared with their plethora of finials, dormers and sundry projections, the Hubert Perrodo is an unsullied Platonic cuboid.
Nonetheless it successfully mediates between the 20th century block to the west and the older converted school building to the east, with subtle material references and sympathetic proportions. The historic quad is enhanced and unified by both the building and the landscaping.
The front facade is a fusion of refined composition and fine craftsmanship. Layered and diaphanous, and more than a bit mysterious, it changes with the light and with occupancy. But for all its abstraction, the building is approachable, clearly a pleasure to occupy, and comfortable in its context.
Like a large bureau at the end of a country house corridor, it draws the eye with its handsome design and finish, and makes the space special. This is a beautiful and bewitching architecture of great purity and finesse.

Contractor Edgar Taylor (Buckingham) Ltd
Structural Engineer Eckersley O'Callaghan
M&E Engineer Hoare Lea
Quantity Surveyor Ridge & Partners
Project Management Waterman Project Management Ltd
Landscape Architects Bradley-Hole Schoenaich Landscape Architects
Acoustic Engineers Hoare Lea
Internal Area 297 m²