​The Queen's College - New Library
by MICA Architects

Client The Queen's College, Oxford
Awards RIBA South Award 2018 and RIBA South Conservation Award 2018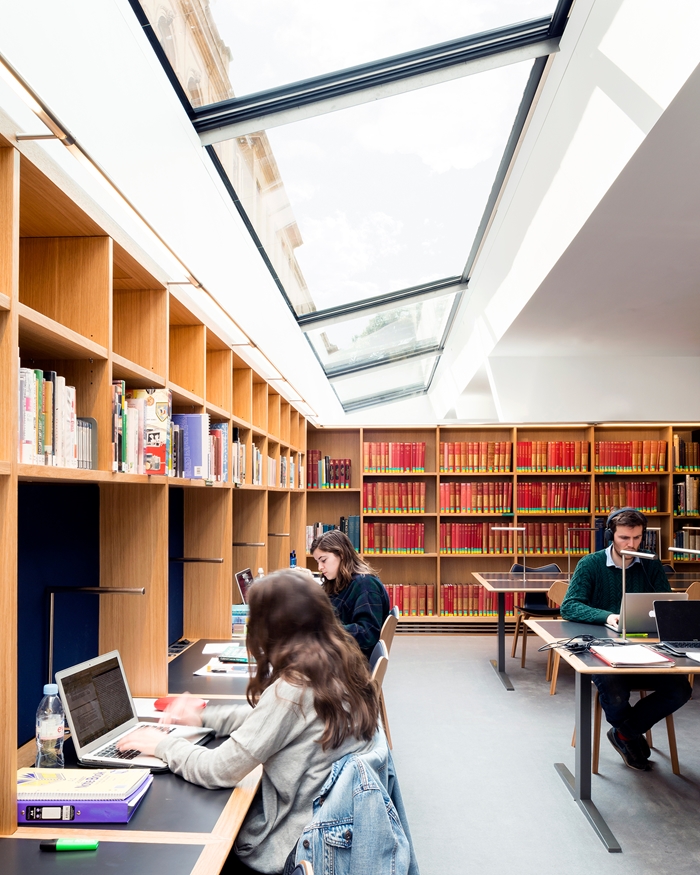 The new library at The Queen's College is virtually invisible, and it is all the better for it. The existing library is a Grade I Listed building and its setting is extremely sensitive, so any major intrusion above ground would be nigh on certain to cause harm. But the college desperately needed a large extension to the library, so they simply had to bury it.
The extension is concealed beneath the perfectly-mown lawn of the Provost's garden which faces the magnificent western façade of the English Baroque library.
Yet today from the windows of the Provost's lodge the view of the facade remains unsullied, despite the large size of the new library, despite the extreme difficulties of its construction, and despite the fact that the buried space is flooded with daylight from a capacious longitudinal rooflight which affords superb views of the same listed façade from below.
By slightly tilting the lawn, the architects have managed to conceal the rooflight in a sort of modern ha-ha, and this suits the spaces above and below ground perfectly.
So the college has all the new space it needs, the old library has been restored to its uncluttered glory, and the supreme quality of the historic architecture and its setting has been preserved.
This is an extraordinary achievement of structural engineering, construction logistics, deep-pocketed patronage, and architectural skill. The designers have not only succeeded in concealing the extension and its rooflight; they have also linked the new to the old with masterful care and discretion.
The elements that make the connection – a beautifully crafted stair and lift – sit within one of the structural bays of the old library and, although they are smooth and contemporary, the deft handling of their insertion means they appear entirely natural in the historic setting.
It is most impressive that, at the end of this project, there is no hint of compromise to the Listed buildings or to their setting. The old parts have scrubbed up nicely, and the few new elements which are visible feel right and good.

Contractor Beard Construction
Structural Engineer Eckersley O'Callaghan
M&E Engineer Atelier Ten
Quantity Surveyor PSP Construction Consultants
Landscape Architects Jeremy Rye Studio
Acoustic Engineers Sandy Brown Associates
CDM Coordinator Gardiner & Theobald
Planning Supervision John Philips Planning Consultants
Approved Building Inspector Oxford Building Control
Arboricultural Ruskins
Archaeology Oxford Archaeology
Internal Area 2687 m²