​​The Sultan Nazrin Shah Centre
by Niall McLaughlin Architects
Client Worcester College, winning
Awards RIBA South Award 2018 and RIBA South Building of the Year 2018 - sponsored by Artifice Press and RIBA National Award 2018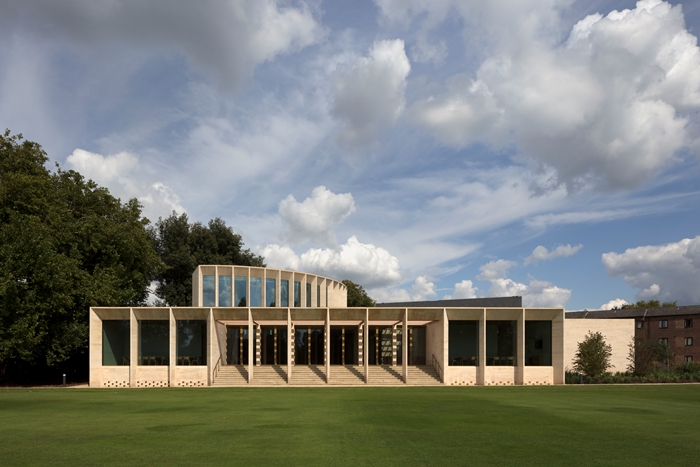 The setting for this building is unbeatable. It is beside a perfectly-mown cricket pitch within the secluded, rambling and idyllic garden of one of Oxford's most historic colleges. And there's a lake nearby too.
To not only preserve but enhance this context would require a building of assured calm and grace. It would need to use materials with a tactile gravitas and be imbued with a timelessness which would make it feel as if it had always been there and need never leave. The Sultan Nazrin Shah Centre does all this and more.
It was not an easy path to get here: the college had an urgent need for the teaching facilities it contains, but had to prove that there was nowhere else in their capacious campus to accommodate them and demonstrate that they could build it without harming the floodplain, the adjacent trees or the matchless setting.
It has taken time, unstinting application from the client and the procurement team, a generous donor prepared to cover the eye-watering build cost, a building team capable of the highest levels of craftsmanship and an architectural team capable of the very highest design quality.
The result is a building of extraordinary elegance. In bald terms it is a relatively small single-storey teaching facility, with an auditorium, seminar rooms, a dance studio and ancillary facilities all arranged around a generous central foyer which opens onto a stepped terrace addressing the cricket pitch.
But above and beyond this, every space is high-ceilinged and flooded with daylight, every element is designed and crafted to the most exacting tolerances and standards, and every part fits together sweetly from the radial brick pavers to the curved seats and huge oak doors of the auditorium up to the spaces themselves, formally arranged as discrete stone forms around which the forum flows.
The building is classical in spirit, with crisp proscenia and a slender stone stoa marching along the cricket pitch façade. However it is uncompromisingly modern in style, with smooth planes of stone and glass and minimal detailing.
Yet there is nothing alien or mechanistic about it; in fact it is surprisingly traditional in its craftedness, relying on stonemasons, plasterers and joiners at the very top of their game.
It is the natural materials, superbly honed, that ground the building and make it belong. It is the architectural design – the timeless pursuit of ordering space and light and form - that makes it a thing of pure joy.

Contractor Beard Construction
Structural Engineer Price & Myers
M&E Engineer King Shaw Associates
Quantity Surveyor Gardiner and Theobald
Project Management Bidwells
Acoustic Engineer Gillieron Scott Acoustic Design
Landscape Architects Simon Bagnall
Stone Work Szerelmey
Hydrological Design Wallingford Hydro Solutions
Furniture David Colwell Design
CDM Coordinator Gardiner and Theobald
Approved Building Inspector Aedis Group
Decorative Mouldings Fine Art Moulding
Joinery Barn 6
Furniture Design Benchmark
Internal Area 846 m²