Greenland Library
by Lee/Fitzgerald Architects
Client Brasenose College

Awards RIBA South Award 2019, RIBA South Project Architect of the Year 2019 - sponsored by Taylor Maxwell and RIBA South Conservation Award 2019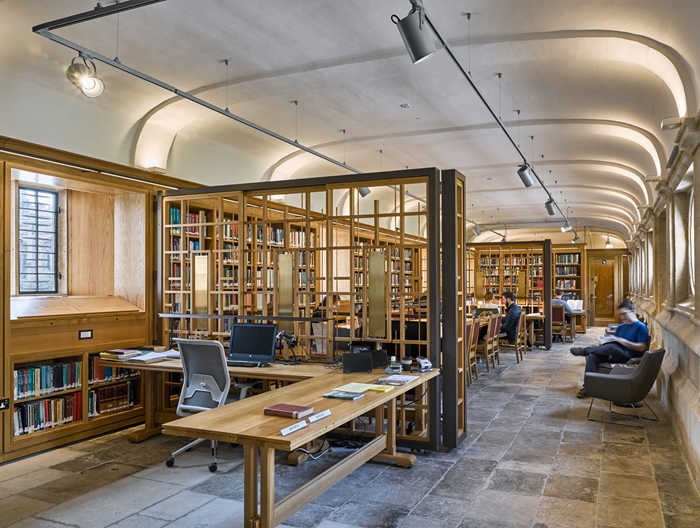 This exquisite project exemplifies itself as a delightful, respectful restoration that reveals the inherent splendour of the College library at Brasenose College, Oxford. With the exactness of a watchmaker, the architects have achieved something entirely transformative. Following extensive archaeological investigations revealing that the cloisters were once the College graveyard with 60 burials beneath, the architects have been able to delicately restore the Library and by fitting out the ground floor cloisters, gift the library a new multi-use space and feeling of openness. The renewed sense of entrance, due to the re-landscaping of the 'Deerpark Quad', reforms the splendour of the library whilst sensitively acknowledging the surrounding setting. The architects have thoughtfully and respectfully drawn upon the existing historic structure and have restored it in a way that echoes the whispers of the past whilst emanating a contemporary, respectful feel.
Through rediscovering the original character and charm of the College's grade I listed cloisters, the reawakening of the architectural form inspires a sense of calm as the synergy between old and new connects the space with the historic past. The restoration of the cloisters involved the stripping back of the space to its original volume, the removal of early 20th century strengthening columns and the renovation of the original flagstones that were re-paved for the first time in 200 years. The original floor flags were numbered, lifted, repaired and thickened. The ground level was then archeologically lowered to the grave tops, giving a below floor service void, and a new floor slab has been suspended over this void and paved with the original flags. New steel beams have been introduced to support the original first floor beams and years of accumulated paint removed from the walls, revealing the original stone work, which has been impeccably restored.
A new stone staircase linking the main College library and new addition has been immaculately crafted to fit the space beautifully; every detail in synthesis with both the 'historic' library above and the lower level below, creating a seamless connection between the space, further adding to the projects appeal. The artistic merit and flexible nature of the interior finishes at the lower level creates a space that is multi-functional and highly desirable. The ability to fold away the book cases enables the library to be used as an event space, which adds further excellence to the durability and enjoyment of the project. Not only can students' study into the night here but galas, lectures or conferences could be held in this beautiful space, opening up a host of new opportunities for the University.
What really makes this restoration stand out was the thoughtfulness with which the architects conducted themselves throughout the project. Their reasoning that 'the "new" is designed as a beautiful and complimentary object that at any time could be removed without trace' enabled a considerate design process that shaped the space with effortless beauty.
Internal area 480 m²
Contractor Benfield & Loxley
Structural Engineers Price & Myers (Oxford)
Environmental / M&E Engineers Hoare Lea (Oxford)
Quantity Surveyor / Cost Consultant PSP Construction Consultants
Furniture Maker David Haddock Cabinet Maker