Hampshire House
by Niall McLaughlin Architects
Client Private Client
Awards RIBA South Award 2019 and RIBA National Award 2019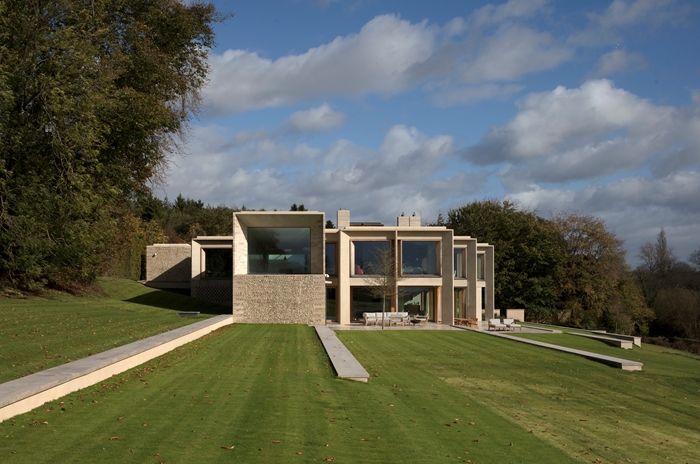 With a dignity and unmatched considered simplicity this home, by Niall McLaughlin Architects, is a strong reflection of the immediate landscape and a distinguished architectural achievement. The warm, natural palette of materials, crisp detailing and considered form and arrangement, not only maximise the stunning views of the surrounding scenery, but also pay homage to family life and growth. The house is arranged in a series of staggered pavilions, that read as generational steps in a person's journey through life. The pavilions, designed to accompany various members of the family, from childhood to later life, are arranged with the central "parent's pavilion" containing a double-height, courtyard kitchen. This courtyard kitchen provides orientation to the home and can be looked down upon from the first-floor corridor connecting the "children's pavilion", "parents pavilion" and "grandparents pavilion" and forms a visual connection with the hub-bub of family life. This careful arrangement breathes life into the household and creates a familial focal point for the generations to gather.

The riverside setting informs the design and choice of materials both internally and externally. Coursed flint, Purbeck stone, architectural cast stone, and untreated oak timber framed windows, which will steadily weather to a silver-grey to complement the tone of the flint and stone, all play their part in the construction of an effortlessly exquisite elevation. The synergy of the oak and stone provides a distinguished layering to the façade, which is further deepened by timber shutters that naturally ventilate the space and can be opened up to reveal panoramic views. The almost entirely oak lined bedrooms, with spectacular vistas of the fluvial landscape, emit a sense of stillness, as the biophilic elements enhance the wellbeing of those inhabiting the space. For such a grand house the resultant rooms are crafted spaces, cleverly intimate and of a wonderful human scale.

The family connection and respectful relationship between client and architect also drew the judges' attention. It was very clear that through detailed dialogue the house has become the home the client envisaged. Possibly, it has even gone beyond their expectations, as it certainly had for the judges. The home radiates tranquillity and humbly mirrors the growth of the family, in a way that should be celebrated and commended.
Internal area 1,250 m²
Contractor Kingerlee
Structural Engineers Price & Myers
Environmental / M&E Engineers Max Fordham
Quantity Surveyor / Cost Consultant Ridge & Partners LLP
Project Management Padstone Consulting
Landscape Architects Imagination Design
Building Control MLM Building Control
Ground Energy Specialist Parsons Brinckerhoff
Pool Consultant BBS Technical Services
Stone Consultant Harrison Goldman
Timber Consultant Wood Architecture and Building (WAB)
Home Automation James and Giles
Infrastructure Engineer Price & Myers