Lark Rise
by bere:architects
Client Private Client
Awards RIBA South Award 2019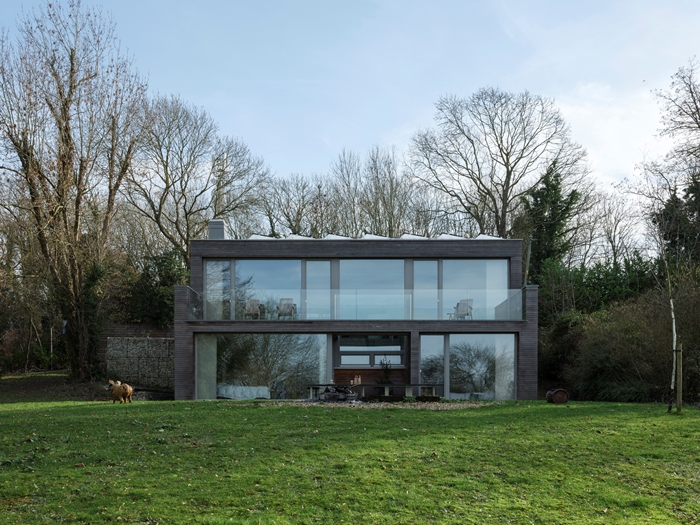 The 'Smart Energy Revolution' has arrived with this ground-breaking 'healthy home' that produces twice the amount of energy in a year than it consumes. The overall aim of the project was to 'spend income, not capital' and rely on the building's 'income' of the sun, wind and rain to service itself and process its own waste. It truly is an innovation beyond that which we can truly comprehend. Replicated at scale this project illustrates how it is possible to clean up our act and do it in a seamless, harmonious way, that not only smoothly integrates sustainable living into our society but does so in an expertly crafted fashion. The detailing is exquisite and the overall atmosphere that the UK's first Passive House Plus emanates is one of tranquility and serenity. Not only is Lark Rise leading the new 'green economic revolution' it's doing it with style and grace.

Although carbon was emitted in its construction, its future maintenance, repair and eventual replacement will be completely free of carbon emissions, offset by the building's lifetime grid exports of surplus solar energy. This project has the potential to radically transform architectural approaches to sustainable design and self-sufficiency and is certainly challenging the status quo. Described as 'game-changing' by a grid expert and advisor to BEIS, Lark Rise acts as a micro renewable power station, drawing 97% less energy from the grid than the average UK home. This project unlocks the possibility of turning UK homes into micro power stations and the exciting potential to enable the UK to be fuelled entirely by renewable energy. As one of the world's first 'building as power station' prototypes, the world is watching as to how this could be an architectural solution to a global problem. Through combining a fabric-first, Passive House approach – utilizing super-insulation without cold-bridges, draught-free construction, high-performance triple glazing with insulated frames, and a heat recovery ventilation system – with a 12.4kWp PV array and a 13.8kWh Tesla battery, Lark Rise is the first of its kind and it's exciting to see what bere:architects will do next.

This ultra-low energy, all-electric and perhaps most advanced high-performance house in the UK, with a negative total net annual energy demand of -35kWh/m2/yr, is ground-breaking to say the least. What is also so enticing about the project is that despite all the high-tech gadgets and construction methods, the home sits respectfully within the local context and surrounding landscape on the edge of the Chiltern Hills in Buckinghamshire. It is a model of gracious design that skilfully combines contemporary materials, construction methods and colour palettes to reflect the openness and warmth of the surrounding natural ecosystem, of the wild flower meadows and greenery, that encase the site on all but one side. The thoroughness with which the architect has interrogated the detail concerning biodiversity and ecology is commendable. By insulating the walls in such a way to discourage the bats from sharing the space, every detail has been deliberated upon and designed for. It's a delight to see such innovative and holistic thought, beautifully translated into a pioneering home; Lark Rise certainly has set an admirable precedent.
Internal area 175 m²
Contractor Sandwood Construction
Structural Engineers Techniker
Environmental/M&E Engineers ATC Chartered Quantity Surveyors
Renewables and battery energy modelling Energelio