Promega UK Headquarters
by ArchitecturePLB with Perkins&Will
Client Promega UK
Awards RIBA South Award 2021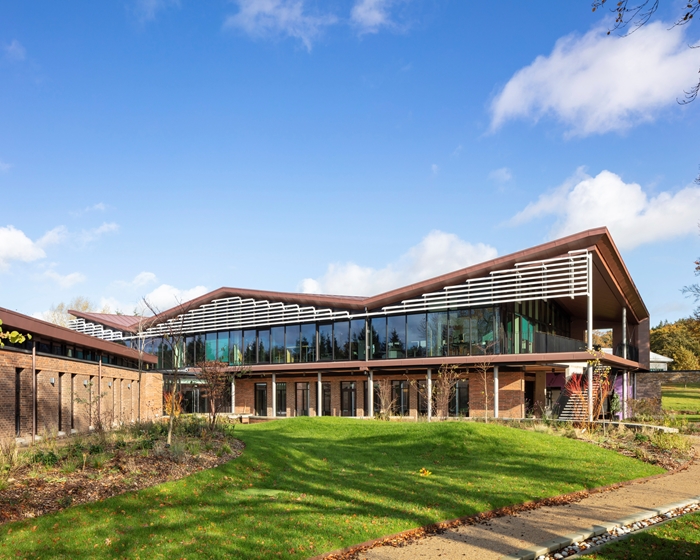 Architecture PLB were briefed to create a 'home from home' atmosphere with excellent natural light, a connection to nature and workspaces which would offer future flexibility and accommodate change.

Located deep in a business park, this building is unexpected in its context. First impressions are that of a very large contemporary home. The aspiration to create a home from home is evident throughout, and the plan arrangement and roof form (expressed internally and very beautifully) help to achieve this. The potentially larger corporate office is broken down to an almost domestic scale. The materials used throughout are rich in texture and mostly natural. The drystone wall at the entrance elevations helps to enhance the feeling of a home in a rural context. To the courtyard elevation, walls become brick and are nicely detailed. Internally, the walls are exposed concrete at ground floor level.
The first floor offers a variety of spaces for employees to work. The views towards the garden and beyond are successful and the landscaping scheme is worthy of praise. The garden is better than in most homes, complete with a dedicated yoga space. It feels pruned and pristine, despite the ever-present motorway noise reminding you of the immediate context.
Promega UK is a good building and is a credit to a client that is evidently passionate and forward thinking about the workplace. This building looks and feels like a very high end, well-crafted office that will be an enjoyable space to occupy whilst offering the flexibility that the client requires. This building is, first and foremost, a showpiece and salesroom for Promega and, as such, it does that very well. We hope that this project will encourage other businesses to aim equally high and elevate the standard of architecture within a business park context.
Internal area 1,577.00 m²
Contractor Amiri
Environmental / M&E Engineers Hoare Lea
Structural Engineers Eckersley O'Callaghan
Quantity Surveyor / Cost Consultant Currie and Brown
Project Management DAR Plus
Landscape Architects Pegasus