The Clore Music Studios, New College, Oxford University
by John McAslan + Partners
Client New College, Oxford University
Awards RIBA South Awards 2021 and RIBA National Award 2021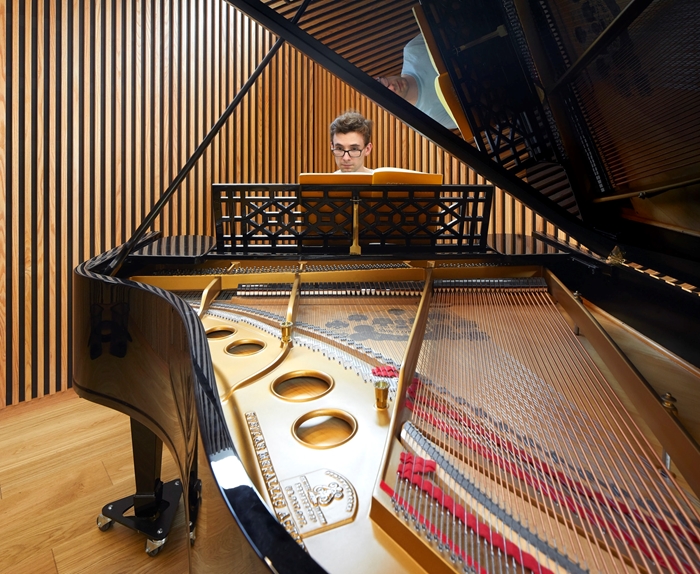 What appears to be a simple form has been borne out of many constraints, including planning restrictions to the height, a Civil War rampart restricting the width, the desire to tie the building in with the adjacent accommodation, and the essential requirement for a lift large enough to carry pianos to the top floor whilst not sacrificing floor space.
The challenge has been successfully resolved, with a stack of music studios and performance spaces that cater for the musicians' needs, enveloped in stone and glass and respecting the streetscape well. The stonework has in parts been worked, to add texture and detail to what could have been an otherwise flat stone box.
Internally, the studios which allow students to practise and develop their skills have been designed for their acoustics. The spaces are well considered and provide natural light (glazing was factored into the acoustic performance design). They are arranged around the glazed atrium which unifies the new building with the adjacent existing accommodation and rationalises the floor level differences.
The main music space on the lower ground floor has dealt successfully with the constraints of the site, as the shape of the room and its generous gained height from being cut into the ground mean that the high-level windows provide views through the landscaping both skywards and to the street.
Internal area 508.00 m²
Contractor Austin Newport Group
Environmental / M&E Engineers Hoare Lee
Structural Engineers Renaissance
Lighting Engineer Arup
Acoustic Consultant Sandy Brown Associates
Landscape Architects John McAslan + Partners
Project Management Austin Newport Group
Planning Consultant Barton Wilmore
Archaeologist Oxford Archaeology