University of Southampton Centenary Building
by Feilden Clegg Bradley Studios
Client University of Southampton
Awards RIBA South Award 2021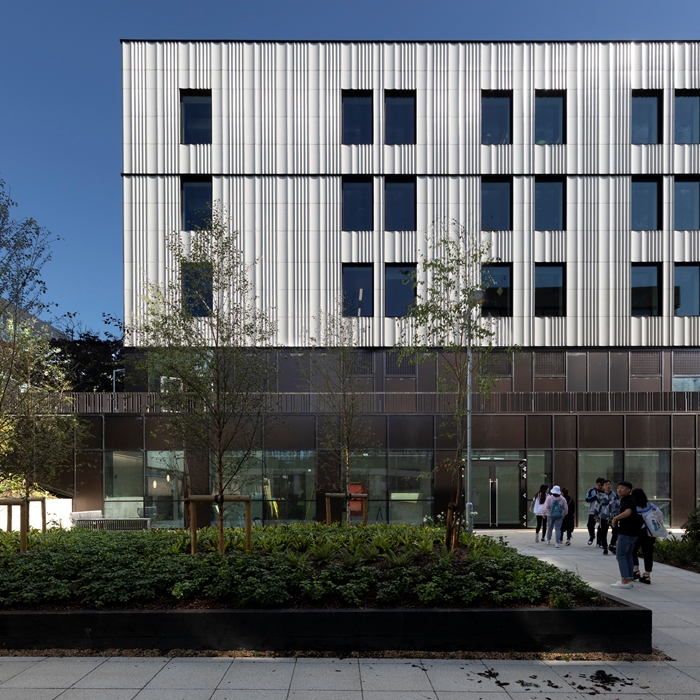 On first impressions, the Centenary Building appears as a rational and quiet scheme, sitting comfortably within what is a relatively uninspiring setting. Whilst it is taller than the surroundings, it has a calm presence. Arriving by car, it feels somewhat a victim of context, surrounded by a sea of car parking. Fortunately, most users will arrive by foot, or bus, which will be a more engaging approach only to be improved when the ground floor cafe opens. Once the cafe frontage is implemented, this northern corner may well be more animated with views through to the new shared space of Jubilee Road. This interface with the public realm will undoubtedly benefit the context.

The scale of the façade panels gives the building a civic scale which feels very successful within this campus setting. The attention to detail here is evident, with fluted sills that match the cladding and horizontal datum lines relating to the neighbouring buildings. The rigour of these exquisite details evidences the skill of an experienced design team.
The effort that has gone into improving and integrating with the urban realm of the campus is clear. New routes have been forged and are well trafficked, even now as we emerge from COVID restrictions. The reserved façade of the Centenary Building acts as a backdrop to the planting, which allows it to be more richly appreciated - all existing trees around the site have been retained. Jubilee Road has been converted to a shared space: fingers of landscaping extend to engage with other campus buildings beyond the Centenary Building as part of the public realm improvements. The effect is to forge visual and emotional connections to the parkland beyond, which enhances the user experience.
Internally, the spaces are as calm and restrained as the exterior. Three staircases enable a one-way system to be implemented and the open nature of the stair and its subtle curves prevents any severity which an angular staircase might present. This thoughtful and subtle curvaceousness is applied throughout from lecture theatre to lighting, to the bespoke study pods. Detailing is well-considered, and the build quality is excellent throughout.
Teaching spaces are a variety of sizes and layouts with great emphasis placed on flexibility. The lecture halls, accommodating 250, felt intimate and the acoustics excellent. The aim of offering flexible working spaces throughout has been achieved and it certainly feels like a place where one could focus on learning without unnecessary distractions and clutter.

The Centenary Building is a high-quality addition to the urban realm and the result of an enlightened estates team and a talented and experienced architect. This is a building that will endure for many years, calm, academic, and flexible with a modest identity. It is a backdrop for academic life that will be animated by the students and teachers who will occupy it.
Internal area 6,400.00 m²
Contractor BAM
Structural Engineers Ramboll
Environmental / M&E Engineers Cundall
Quantity Surveyor / Cost Consultant Turner and Townsend
Project Management PDCM Ltd
Acoustic Engineers Cundall
Landscape Architects Land Use Consultants
Interior Design Feilden Clegg Bradley Studios
Lighting Design Cundall
Fire Consultant Ramboll
BREEAM Assessor Cundall
Planning Consultant Turnberry Planning Ltd