Barton Farm Primary Academy
by HCC Property Services
Client HCC Children's Services
Award RIBA South Award 2022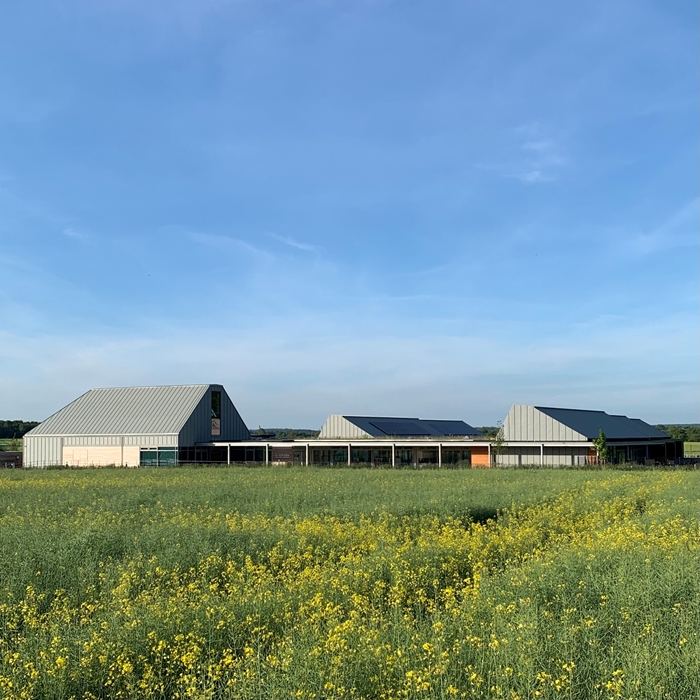 Barton Farm is another exemplar from the Hampshire County Council stable, and it continues the tradition of simple, self-effacing school buildings that feel like they really have been designed for children as much as grown-ups. This latest edition is a relatively pared-back steel frame affair, but the essential principles are still there.

As one would expect, the plan is clear and simple, with the big moves in the right places. The main entrance and communal rooms face west towards what will eventually be the public square at the heart of the surrounding new development. From here, two wings extend to the east, framing a really well-landscaped playground at the heart of the scheme. As it is a new school, occupancy levels are currently quite low, but one feels sure that this space will really come alive as numbers naturally increase.

The two wings accommodate fifteen classrooms that are sensibly broken down into five discrete blocks of three, all of which open onto play areas to the south. This fundamentally means sound orientation is mediated by canopies that create generous thresholds for outdoor teaching and play when the weather is either too wet or too hot, a simple educational and environmental idea that is often neglected. Corridors are arranged along the northern edge of each wing, and they either face directly onto outside space or are bordered by shallow ancillary spaces with glazing to the internal corridor. As a result, these circulation spaces are filled with daylight, views to outside and visual interest.

There is also an elegant clarity to the building in section – circulation and offices are single-height with timber-framed ceilings and exposed services, whereas exposed lightweight steel trusses in the classrooms create a generous roof space, which encourages cross ventilation and provides additional daylight from the north. These roofs also lend a rural vernacular flavour to the building when seen from afar, reflecting the location of the school on the very edge of Winchester.
Internal area 2,215.00 m²
Contractor Willmott Dixon Construction Limited
Structural Engineers HCC Property Services
Environmental / M&E Engineers HCC Property Services
Electrical Engineers HCC Property Services
Quantity Surveyor / Cost Consultant HCC Property Services
Acoustic Engineers 24 Acoustics Ltd
Access Consultant HCC Property Services
Landscape Architects HCC Property Services
Interior Design HCC Property Services
Civils Engineer HCC Property Services
Health and Safety Consultant MACE Ltd
BREEAM Assessor DBK