GHT - God's House Tower
by Purcell
Client A Space Arts
Award RIBA South Award 2022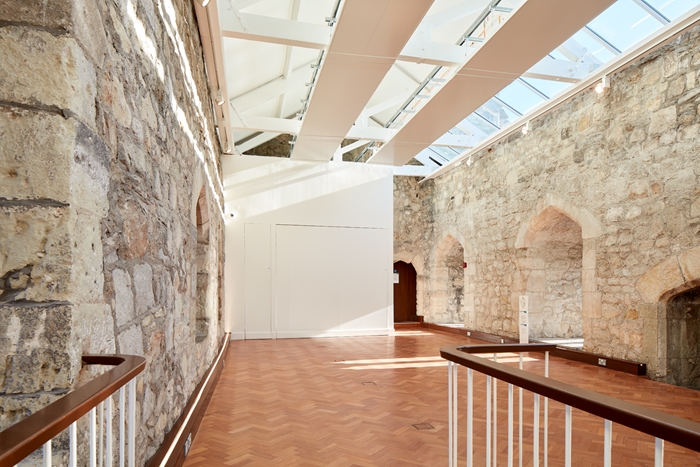 The new entrance created to mark the public access to God's House Tower feels as though it has always been. For the first time in several hundred years, the public can now access GHT and a new route has been created through the building which allows everyone to experience its rich history as a vital part of the medieval city wall defences.

The sensitive, yet bold new doorway to the main street frontage was historically researched to ensure it was in the exact location shown on historic records. When the opening up took place, a historic vertical shaft was uncovered proving that the research was accurate – light now floods down and a connection with the floor above is glimpsed. These connections through floors and layers of time are a theme within GHT, a historic Grade 1 Listed building and Scheduled Ancient Monument. Many of the 1960's additions have been stripped away, and better elements (such as tower staircase, parquet floors and handrails) remain. This layering and celebration of periods of intervention, creates a dynamic tension that enables the new additions a little more liberty of expression. The material palette is restrained and in homage to the 1960's materials, concrete, glass and oak joinery. Throughout, the architect's hand has been restrained, yet vital – an experienced wisdom that has gently uncovered the layers and known when to intervene and when to be restrained.

Now occupied by the charity A Space Arts, this is a building whose re-imagining creates a public vitality now enjoyed by all. The new café spaces and reading nooks, located where the old meets new, create moments of serendipity.

The budget was extremely tight and some of the elements of the new (the lift, and some storage spaces) feel unconsidered and a victim of value engineering. The client commends the input of Southampton City Council (the Local Authority) and their commitment to this project, and the client is evidently passionate about bringing new community arts events and uses to the building to help ensure its ongoing viability in a period when the arts have suffered so much hardship from COVID closure. There are real moments of joy within this building that are delightful.
Internal area 540.00 m²
Contractor Mountjoy
Quantity Surveyor / Cost Consultant Greenwood Projects
Structural Engineers Mann Williams
Interpretation HKD
Principal Designer Mountjoy
Project Manager Greenwood Projects