Island Rest
by Strom Architects
Client Private Client
Awards RIBA South Award 2022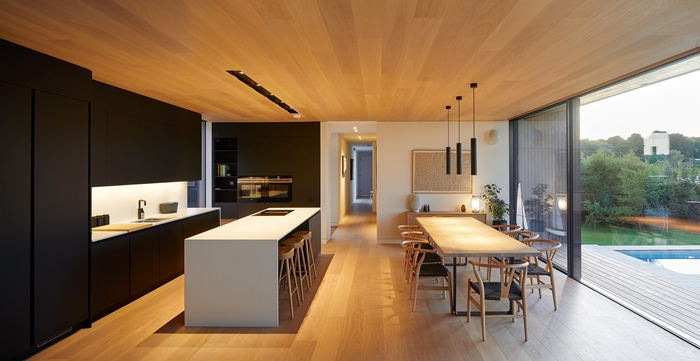 It is a testament to the elegance of Island Rest that there is not much that needs to be said. It is humble in the wider landscape, its composition is ordered but relaxed, and it is controlled and yet seemingly effortless in detail. Its calm confidence puts one at ease and lets family life carry on around it.

The building is a long and low-slung black box, anchored to the ground at one end while at the other, the bedroom wing extends out over the falling ground level to the west – no overbearing cantilevers, just a series of slender steel poles on small concrete foundation pads. The main living space had to face north towards the views out over the harbour and the Solent beyond, so a well-judged and equally well-planted small south-facing garden neatly avoids the pitfalls of a single-aspect living space. The modest steel-framed structure was designed by the engineer-client, with a pre-cambered beam over the main windows to the living space to create a column-free span without locally increasing the beam size. The vertical ribbed cladding is neatly fixed with concealed screws and the matt black stain is just right.

Its laconic presence in the landscape is set off by a series of mature oak trees. It is an exemplary lesson to many other new developments on the island which try to do much more but achieve so much less.
Internal area 184.00 m²
Contractor Rice Projects
Structural Engineers Eckersley O'Callaghan
Environmental / M&E Engineers Mesh Energy Consultants
Quantity Surveyor / Cost Consultant APS Associates
Lighting Design Speirs and Major