Push-Pull House
by Cullinan Studio
Client Private Client
Awards RIBA South Award 2022 and RIBA South Sustainability Award 2022 sponsored by Michelmersh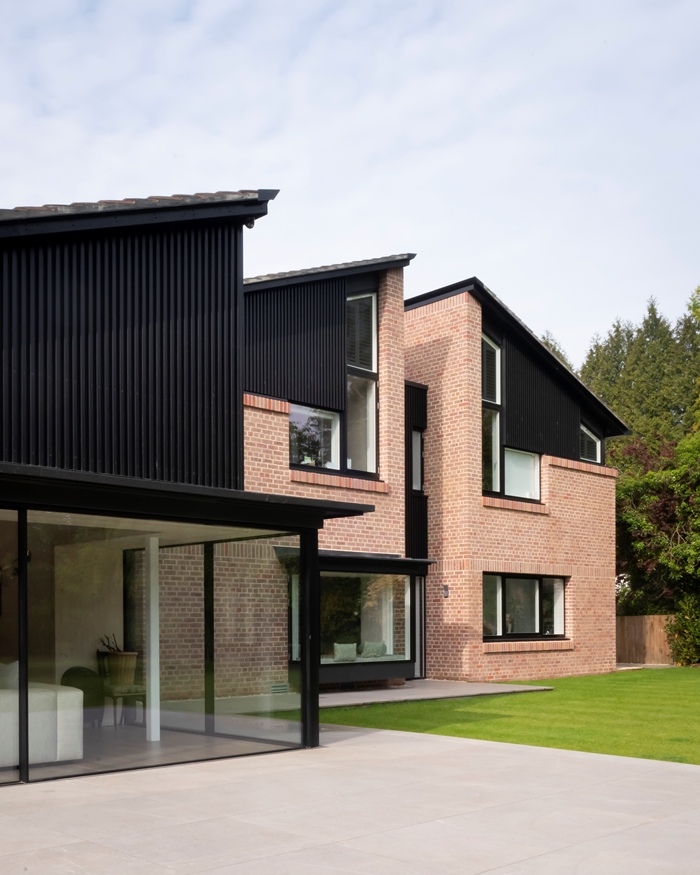 Push-Pull House is both confident and unassuming, a sophisticated formal statement that is also well-scaled and contextual. In a quiet, domestic way, this is a building that manages to cross the ages, in which there is Arts and Crafts heritage, classical symmetry, 1960s cross section, and contemporary construction.

It is a pleasure to visit a building that is such a resolved three-dimensional composition. There is clarity and rigour in both plan and section, as well as delight in the rich spatial experience at the heart of the house – this is an achievement that takes many extra hours of architectural thinking and drawing. The combination of a bit of 'push-pull' in plan, the butterfly roof in section and the use of clerestory glazing, brings secondary sources of daylight into many of the rooms without overlooking neighbouring houses and gardens.

Of special note is the long sloping span of exposed CLT over the main living spaces, where this increasingly common form of construction has been used in such a way that really brings it into presence, and provides a rare example of the integration of material, structure and space. The CLT structure also sequesters CO2, and although designed around eight years ago, the project meets RIBA operational energy targets for 2025.
Externally, the controlled palette of red brick with lime mortar, clay roof tiles and black-stained timber cladding and windows creates a comfortable 'traditional-modern' aesthetic. The clients also deserve a mention for persevering through two planning appeals, when many might have compromised to the detriment of the final result. They were rewarded with a mature piece of work that will stand the test of time.
Internal area 503.00 m²
Contractor GNC Construction Ltd
Structural Engineers Engineers-HRW
Environmental / M&E Engineers Couch Perry Wilkes
Specialist Solid Timber Engineer Eurban
CLT Supplier Stora Enso
Quantity Surveyor (pre-tender) Peter Gittins & Associates
Project Manager (post-tender) Sharman Whyte