St Edward's School - Olivier Hall and Christie Centre
by TSH Architects
Client St Edward's School - Olivier Hall and Christie Centre
Awards RIBA South Award 2022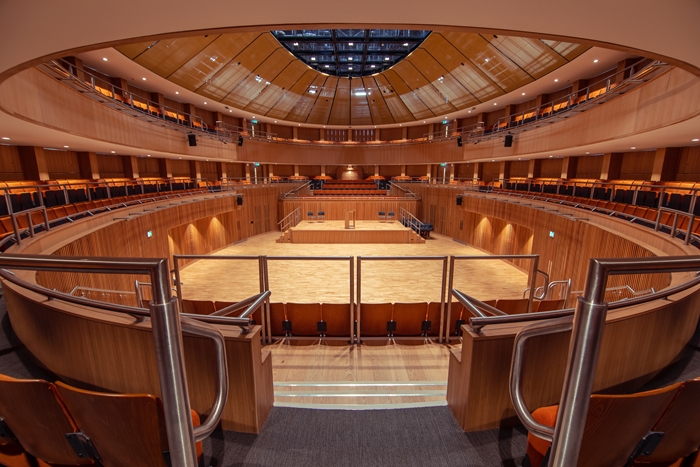 The Olivier Hall and Christie Centre provide a growing school with additional space for assembly, performance, learning and teaching. The project was also an opportunity to complete the large Victorian quadrangle around which the school was originally masterplanned.

The main design moves and overall massing make sense of the whole south-east corner of the site, both in terms of building volumes and external spaces. The stone-clad gable of the library firmly establishes the corner of the quad, and mirrors the existing stone chapel on its opposite corner. The three pitched roofs and gable ends of the L-shaped Christie Centre echo the existing formal language across the site, whereas the oval mass of Olivier Hall is clearly something different, denoting its status as a place of communal assembly. The large hall is also sited so that its curved form emerges from behind other buildings in the foreground, an urban condition that works particularly well from the main quadrangle. One is drawn towards it through four new bays of brickwork cloister into a new outdoor antechamber, a moment of pause before one enters the foyer that connects the hall with the café at the base of the library.
The oval shape of the hall works equally well internally, where it can accommodate different configurations suitable for school assembly, theatre, music and dance. It is also a geometry that embraces and includes and, combined with the warmth of the acoustic timber panelling, the hall feels impressive but not hierarchical or too formal.

The reading room on the top floor of the library is also a space that has been conceived with ambition, its character defined by the oak glulam structure of the roof, and a rooflight at its apex that casts a play of light and shadow over the diagrid framework below. A mezzanine study provides a more private space up in the roof in which to hide from view and catch up on some last-minute homework.
Internal area 3,995.00 m²
Contractor Gilbert-Ash
Structural Engineers Price & Myers Consulting Engineers
Environmental / M&E Engineers QODA Consulting
Theatre & Acoustic Consultants Charcoal Blue
Landscape Architects Adams Habermehl
Quantity Surveyor / Cost Consultant Gleeds