Thames Hospice
by KKE Architects
Client Thames Hospice
Awards RIBA South Award 2022 & RIBA South Client of the Year Award 2022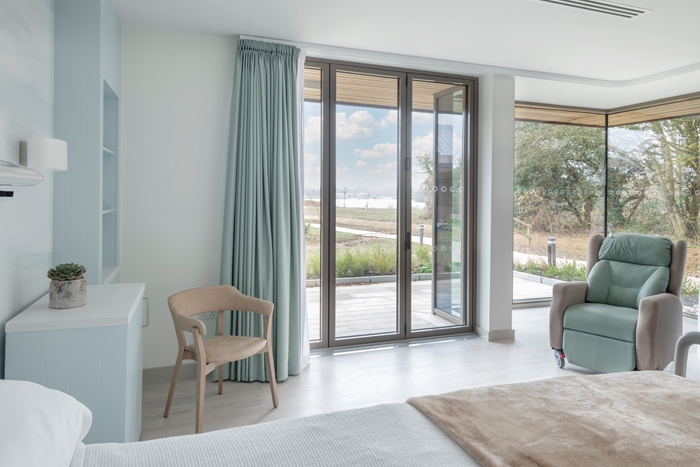 This hospice is a building programme that has to negotiate a lot of practicalities and institutional regulations, and it has been done here with the conviction from both client and architect that this must be compatible with good design and spatial delight. It is also a building type that, for many, might carry negative connotations, so although it may sound slightly strange to say, this scheme deserves an award because it has created some lovely spaces in which to live and die.

Situated on a spacious lakeside site in the green belt on the outskirts of Windsor, the building diagram is a weave of circulation spines, clusters of patient rooms, work spaces and landscaped courtyards. As a whole, the design manages to strike a balance between breaking down a large institution into a composition of smaller informal elements and maintaining a reasonably compact and workable plan. Many of the rooms have a strong connection to the landscape, from covered seating looking out to the lake, to more intimate sheltered courtyards, to communal workstations for the nurses that open into gardens on both sides.

The client lead, Debbie Raven, saw the project through from beginning to end, and her energy and commitment to the cause undoubtedly played a key role in the success of the project. The whole place feels lively and popular with patients, staff and visitors, and it is a testament to the scheme as a whole that the café has proven to be very popular and a destination in its own right - so much so that there is an extension in the pipeline.
Internal area 5,344.00 m²
Contractor Andrew Scott
Structural Engineers Price & Myers
Environmental / M&E Engineers Method Consulting
Quantity Surveyor / Cost Consultant Ward Williams Associates
BREEAM Method Consulting
Landscape Architects Churchman Landscape Architects
Interior Design Elaine Lewis Design