The Story Museum
by Purcell with Ramboll UK and a team of exhibition designers led by RFK Architects and Tom Piper
Client The Story Museum
Award RIBA South Award 2022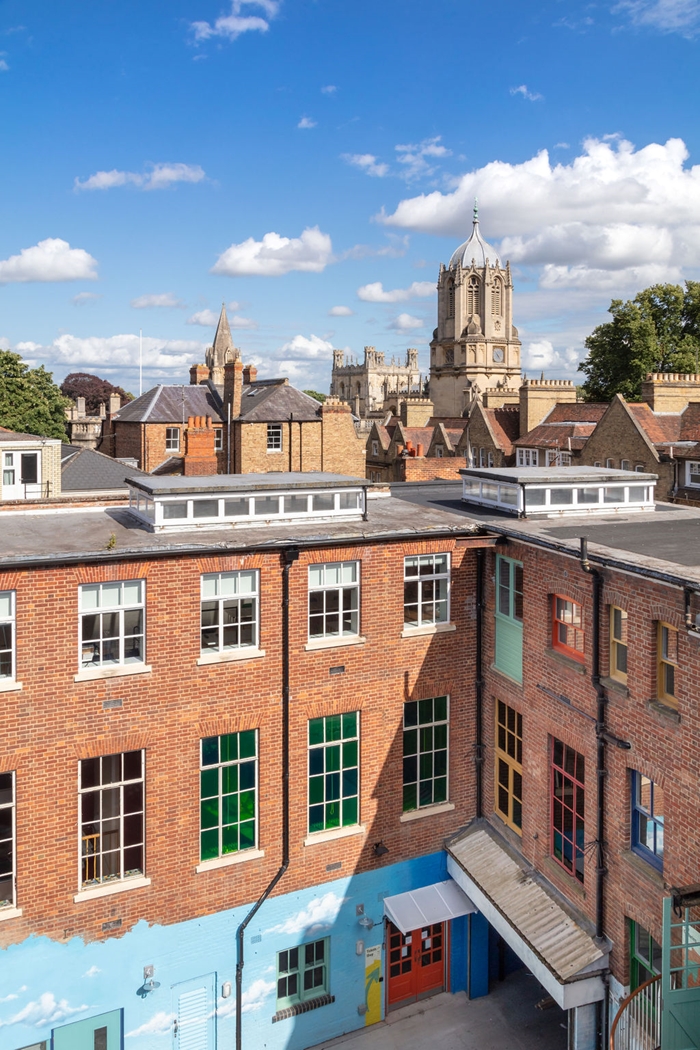 Located within a former 1930s telephone exchange and 19th century master's house, the Story Museum 'collects' and celebrates stories for a range of audiences. Funded by the National Heritage Lottery Fund and the Arts Council, as well the museum's own fundraising activities, the project has been delivered imaginatively on a limited budget.

Visitors enter the yard via a former carriageway that instantly transports visitors to a make-believe world that, at ground level, houses public facing spaces such as a ticket hall, reception, shop, café and WCs. Hard landscaping in the form of a concrete dish mediates the external ground levels and is used for a range of public programming functions that take place at the museum, as well as breakout space from the café.

At the upper storeys, complex level changes are unified across the existing buildings, anchored by a principal core that consists of a galvanised steel staircase (conceived as a tree-house like element) and passenger lift, making the Museum fully accessible across all floors.

In a fabric-first approach, the concrete frame of the 1930s building is retained, along with the existing steel doors which preserve the memory of the original building. In both buildings, external elements such as windows and doors have been upgraded, and existing walls lined with insulation to improve thermal performance. The existing floor structure has been kept in place and adaptations kept to a minimum. Existing roofs have been renewed and provide additional attenuation for rainwater. All but one of the galleries are designed to be naturally ventilated, with temperature and relative humidity controlled by opening windows, made possible because some of the precious artefacts are housed in conservation standard display cases.

Collaborating with nine exhibition designers, as well as museum curators, Purcell has worked hard to make the base build design work effortlessly, allowing the fantastical artefacts and exhibition display to sing, while still retaining the original character of the buildings. The architectural response is unimposing and playful, serving as a framework to further the museum's vision of improving physical and intellectual access to stories for all visitors, irrespective of age group.
Internal area 2,062.00 m²
Contractor Edgar Taylor Construction
Structural Engineers Ramboll
Quantity Surveyor / Cost Consultant Burke Hunter Adams