​British Airways i360
by Marks Barfield Architects
Client Brighton i360 Ltd
Awards RIBA South East Award 2017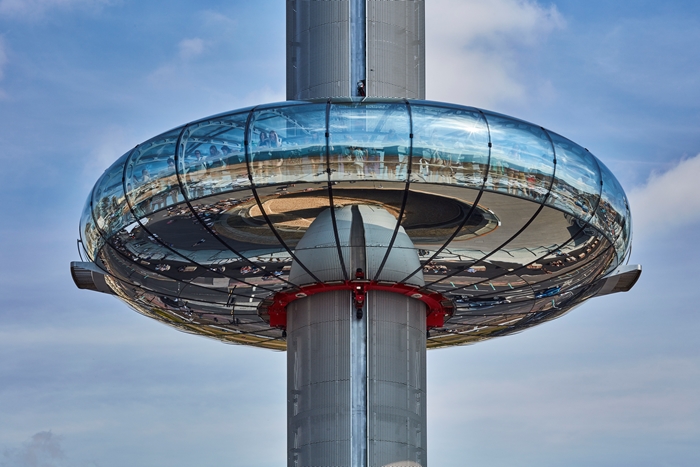 British Airways i360 is the world's tallest moving observation tower. The jury were impressed by the extraordinary innovation and originality demonstrated by this scheme and the heroic collaboration between architect and engineer.
The jury thought that the research and the development exhibited in the design of the double curved 'oblate ellipsoid' and in the design of the world's most slender tower, with a height-to-width ratio of more than 40:1, should be commended. The jury also felt that there was a sense of delight in the way the pod emerges from the bowels of the earth, which can be enjoyed by passers-by.
The structure is of its time and built using the latest technology and materials. The 80-tonne counterweight on a winch in the basement was fascinating to watch as it unwinds as the bubble rises. The logistics involved in the construction, especially the transportation of the parts by barge and the use of the jacking rig to build the tower, is relatively unique and fitting to its beachfront location. The actual observation element was fun to be in with the freedom to stroll around, sit, or simply stand and gaze at the unfolding views.

It is accepted that the design is universal and not built specifically for Brighton but rather Brighton came forward to host the i360 and a location on the beach front designated. Brighton's rich and varied architectural heritage makes it a suitable venue for the i360.
The conceptual ambition exhibited in this scheme and the extent of innovation and originality we felt merited an award. BA i360 is a modern-day 'vertical pier', inviting visitors to 'walk on air' and gain a new perspective on the city, just as the original pier welcomed Victorian society to 'walk on water'.


Contractor Hollandia Infra b.v.
Structural Engineers Jacobs UK
Project Management Helmsley Orrell Partnership
Damping Consultant Professor Max Irvine
Pod Consultant Nic Bailey Design
Environmental Consultant Loren Butt Consultancies
Façade Consultant Mott MacDonald
Lighting Consultant Do Architecture
Planning Consultant DP9
Quantity Surveyor RLF
Pod, Drive & Control System Pomagalski SAS
Foundations and Visitor Building JT Mackley & Co
Internal Area 2,037 m2