​Cairns Tower, Brighton College
by Richard Griffiths Architects
Client Brighton College
Awards RIBA South East Award 2017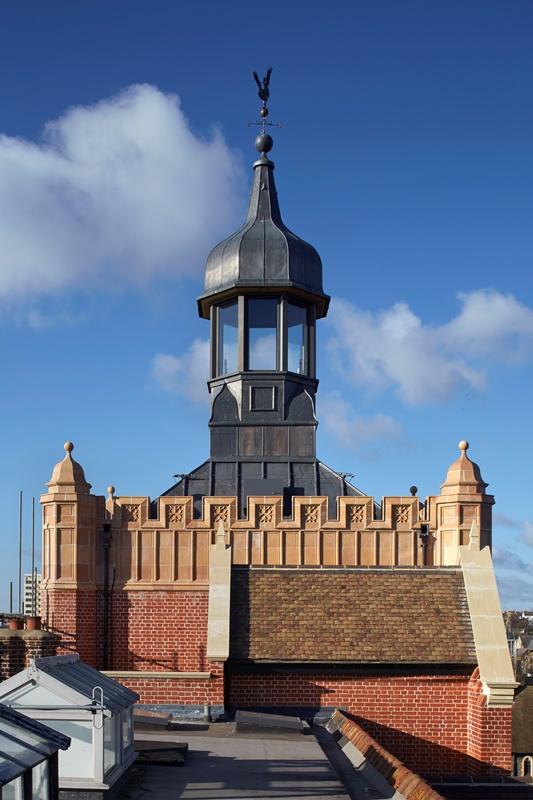 This scheme is an exemplary restoration project, which sees the completion of the entrance tower at Brighton College. It was unusual in terms of a restoration which seeks to complete the unfinished work of the original design by T G Jackson. The work has clearly engaged and delighted the college community and benefited this important context as the entry point to the college.

The work has been informed by a rigorous academic and philosophical conservation approach which has included analysis of the original drawings, adjacent materials, and laboratory analysis all undertaken by appropriate craft specialists. The scheme weighs benefits and harm to provide a solution which provides for the effective long term benefit of the heritage asset.
"Jackson designed the turret in an elaborate new Tudor style. The completed tower re-interprets Jackson's designs with faithful replication of materials, proportions and overall concept while resorting to contemporary simplified detailing of its original ornate treatment. It acknowledges it is a 21st century addition to the incomplete entrance range. What sets this project apart from a straightforward restoration is the confidence to make subtle and modest changes to the original to suit the needs of 21st century use. You feel the hand of Jackson steering Richard Griffiths' team, but not constraining them." – Fiona Raley, Specialist Conservation Architect on the jury.


Contractor Virtus Contracts Limited
Structural Engineer Hockley and Dawson
Environmental / M&E Engineers Thornton Reynolds
Quality Surveyor & Cost Consultant Quantem Consulting
Interior Design DDSB
Internal Area 145 m²