​Hastings Pier
by dRMM Architects
Client Hastings Pier Charity
Awards RIBA South East Award 2017, RIBA South East Project Architect of the Year 2017 - sponsored by Taylor Maxwell and RIBA South East Client of the Year 2017 - sponsored by Tobermore, RIBA National Award 2017 and RIBA Stirling Prize 2017.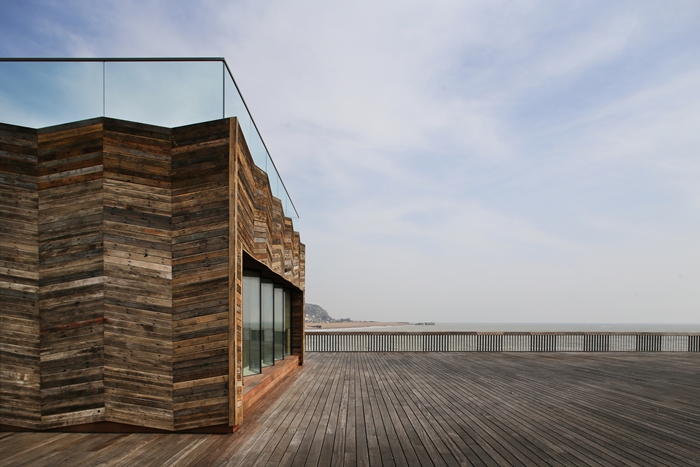 It has taken a seven-year heroic collaboration to turn a smouldering pier in disrepair and decline into a vibrant public space with a palpable sense of ownership. This collaboration has been between the community, the Council, the engineers and the architect and it is the architect's vision which has been vital throughout to steer the process. After extensive stakeholder consultation, it was clear to dRMM that the pier would be expected to host many different populist scenarios.
Predictably enough, it transpired that it had to be everything to everybody, with an absent owner not responding to the increasingly Dangerous Structure repair requirements, and no rebuild budget available in a run-down seaside town. Lateral thinking was required to make a structurally and socially sustainable project actually happen. The architects had to write the brief and help raise the budget before redesigning the pier.

Their 'master-move' and response to this brief was to design a strong, community led/owned serviced platform which could accommodate a whole host of uses, from music concerts, to international markets. 'In homage to conceptualist Cedric Price, users bring their own architecture to plug in and play.' This concept is really working in practice and should be commended.

The decision not to place any building at the end of the pier, which is possibly the obvious position to site a building, is an extremely powerful move. The large open space provides a sense of calmness and delight, with a strong connection to the sea and the seafront. The experience of free space and 'walking on water' is heightened by the optics of a very beautiful, louvred balustrade design and quality timber deck.
The new visitor centre replacing the weakest section of the damaged pier is a relatively simple CLT structure clad in reclaimed timber which was salvaged from the original fire-damaged pier. This helps to create a strong feeling of place and belonging. It boosts an elevated, rooftop belvedere where locals go for a coffee or cup of soup. It offers adaptable space for events, exhibitions and education. Reclaimed timber deck furniture was designed by dRMM and Hastings & Bexhill Wood Recycling as part of a local employment initiative.

The new pier is not a lonely pier: rather, it is extremely welcoming in its design, with free, open entry to the public. It offers flexibility, material and functional sustainability, and an uninterrupted vista of the natural and built surroundings. This is a Heritage Lottery Funded project and it has become a catalyst for urban regeneration.

From a conservation perspective, this project has reinvigorated a fire-damaged historic structure and facilitated a contemporary and appropriate new 21st century use. The project has been mindful to integrate material from the original pier in the new design, and the process of restoration was used to help train a new generation of craft specialists.


Contractor Hastings Pier Charity
Structural Engineer Ramboll UK
Environmental / M&E Engineer Ramboll UK
Quantity Surveyor / Cost Consultant PT Projects
Marine Engineers Ramboll UK
Internal area 11,720.00 m²