​Shoreham Beachside Home
by ABIR Architects
Client Private
Awards RIBA South East Award 2017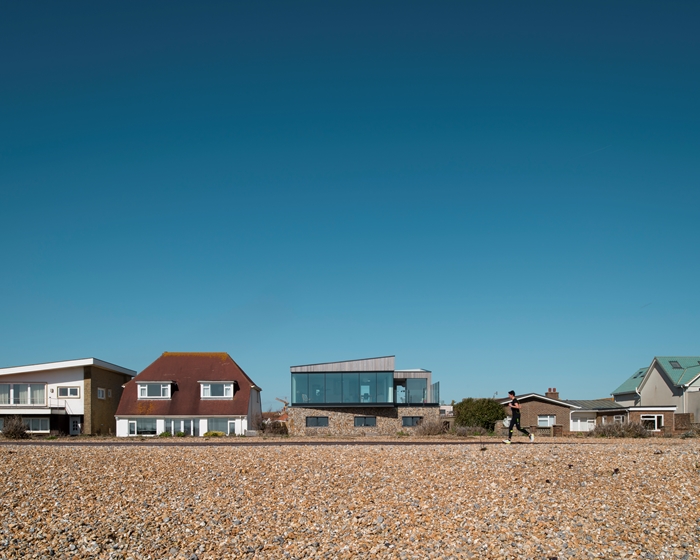 The scheme is an example of what can be achieved on a minimal budget with intelligent design and a close collaboration between architect, client and builder. The jury hope that what has been achieved here with an economy of means will inspire those working in practice to assess other sites and budgets for such opportunities. The architectural ambition was very evident and, although the scheme had to be adapted in many instances to stay within the clients' strict budget, the overall design vision remains strong.
The house is very site-specific, with a clear front and a back, but the rear façade in this instance is the public façade. The main living space at first floor is fully glazed and offers a 'window to the world'. The striking views out to sea and onto the beach are maximised and the architect has created a bright, open-plan environment for living which is really enjoyed by the family and indeed by passers-by.
The materials have been very carefully selected to help embed the building in its setting. The stainless steel gabions at ground floor are filled with pebbles dredged from a local channel which achieves a very good colour match with the beach shingle (which is protected). The sweet chestnut cladding at first floor is detailed with precision and is weathering very well. The frameless glass is reserved for the public elevation with the extraordinary views. The other elevations are treated more conventionally and the specification has been reduced here to match the budget.

An innovative construction method was employed to allow the building to be erected quickly, thereby reducing costs. The building was set out to block sizes for speed of construction: it only took two weeks to erect the ground floor walls, comprising 250mm thick stainless steel gabions fixed to hollow Durisol block (recycled wood pallets) and filled with 165mm insulation and 120mm concrete.

Internally, a whole host of design decisions were made in order to meet the budget – the temporary stair used during the construction phase ended up being retained and simply over-clad with plywood. Tiling was omitted and splashbacks were created with a lacquered paint finish instead. Polished concrete was unaffordable, but a substitute 'polished concrete slurry' was used throughout on the walls and floor which is very successful.


Contractor Roots Construction
Structural Engineer IE Structural Engineers
M&E Engineer Delta Green
Quantity Surveyor RLF (Brighton)
Internal Area 208 m²