​​City of London Freemen's School - Swimming Pool
by Hawkins\Brown

Client City of London Freemen's School
Awards RIBA South East Award 2018, RIBA South East Client of the Year Award 2018 - sponsored by Tobermore and RIBA South East Sustainability Award 2018 - sponsored by Geberit and RIBA National Award 2018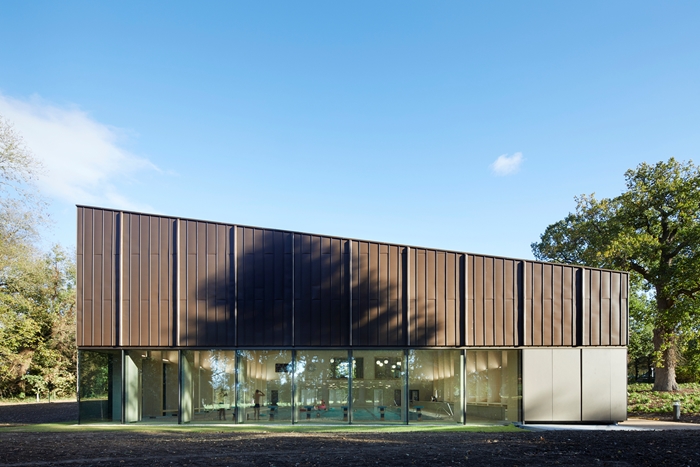 The new swimming pool replaces the previous one, which was located elsewhere on the campus and recently burned down. The masterplan, by the same architect, had to be revisited and so offered the opportunity to better locate the new pool away from the Grade II Listed house and closer to other sports facilities.
The pool building has a sensitive location: it is set within the Green Belt, the curtilage of Grade II Listed buildings and adjacent to ancient woodland. The architects have responded by creating a quiet, unassuming building from the outside, which is practically invisible as you approach from the house.
They utilise the sloping site to their advantage, creating a simple, low-lying form clad in a dark brown zinc panelling. Few hints are given to what one experiences upon entering the building.
By contrast, the pool interior is light and spacious with a cathedral-like quality. We experienced it when not in use, so it exuded a supreme tranquillity and calmness which was heightened by the beautiful views out across a meadow to the woodland beyond.
The pool is at the same level as the ground outside: on two sides, windows drop down to the floor to create the sensation of swimming with nature.
The predominant internal material is timber, with white washed glulam frames and CLT panels – all well detailed and finely crafted. The proportions and spatial arrangement of the main pool interior are elegant and pleasing.
Quality is high throughout, with the M&E virtually invisible within the main pool space, which is no mean feat.
We understand that the architect faced difficult cost and contracting decisions along the way, which were wholly supported by the client and is testimony of the trust and good relationship the school has with their architect.
Contractor Gilbert Ash
Structural Engineer Eckersley O'Callaghan
Landscape Architect BD Landscape
Quantity Surveyor Fulkers
M&E Engineer Skelly and Couch
Acoustics Max Fordham
Interiors Hawkins\Brown
Ecology Advisor Aspect
Transport Engineer Motion
Project Management Pick Everard
Internal Area 1750 m²