​​Studio in a Ruin
by Carmody Groake
Client Private Client
Awards RIBA South East Award 2018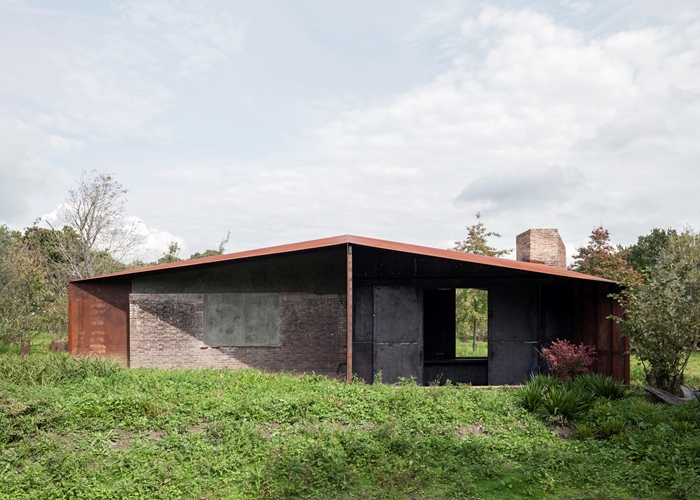 This project is the transformation from an unremarkable ruin, within an unremarkable field, in to a beautifully poetic building. It is part of a collection of buildings and installations created within the grounds of a family home, commissioned by a patron of art and architecture.
It may be part of a trail or route around the grounds, but we experienced it as a stand-alone piece which we approached from the drive and were then taken around to enter from the rear. This wasn't quite what we expected but then nether was the scale or configuration of the spaces inside.
The artist's studio is much bigger than the photos convey and, whilst it is one open plan space, its change in level splits it in two. One part is semi-buried within the ground and provides the basic infrastructure, water and fireplace (there is no heating system) to support the range of activities that can happen there.
The upper space is set at ground level, focusing on the remains of an old inglenook fireplace and a new wide window opening out to views of the countryside.
The ruin was once a farmhouse, with little left standing except for a small part of the brick perimeter walls. It was decided to keep what remained and build a new studio around it.
The architect has chosen materials with a raw finish: polished in-situ concrete to the walls and an insulated corten steel roof, both beautifully hand crafted. Whilst the concrete walls follow the form of the old farmhouse, the steel roof is a complete departure.
It is carefully choreographed to fold and extend beyond the building, in order to frame views, create covered outside spaces and to blend in with the gently-undulating landscape. Opportunities have been taken to create large windows where no walls remain and this works well.
The design process has clearly been very rigorous and controlled, yet there was an interesting dynamic and enough flexibility to allow the local blacksmith (who didn't like working from drawings) to make his own mark on the roof.
The flexibility also plays out within the use of the space, which is both a pottery and sculpture studio as well as a place for the kids to play and camp out in.
Structural Engineer Stephen Evans Associates LLP
Landscape Architect J&L Gibbons LLP
Quantity Surveyor Quantem
M&E Engineers The Design Collective
Internal Area 68 m²