Harbour House
by McLean Quinlan
Client Private Client

Awards RIBA South East Award 2019 and RIBA South East Project Architect of the Year 2019 - sponsored by Taylor Maxwell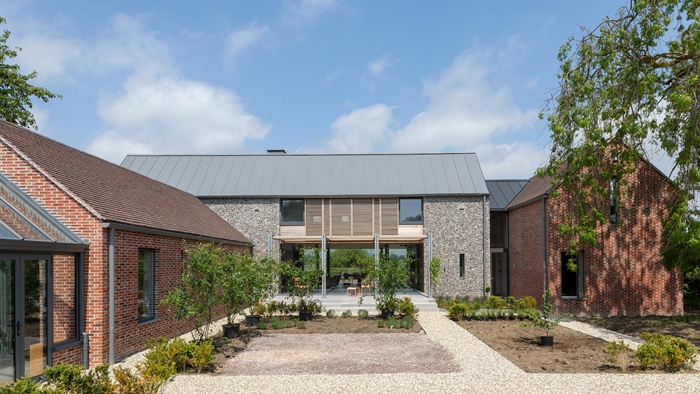 This house is sited on the banks of Fishbourne Channel in West Sussex - virtually in and amongst the boats and dinghies of Chichester Harbour. The design of the house developed over time - as a conversation between architect and client (a former architect). The resulting building is a collection of distinct volumes, vernacular in form, but contemporary in detail.
The main rooms are contained in a double bay volume built in flint, whilst the secondary functions are housed in wings of brick. The main living room has glorious views across the water to the north and the garden and tennis courts to the South.
The judges very much enjoyed the architects clever use and detailing of materials in this project. A consistently high level of workmanship and finishing is evident throughout the house, and in materials which seem to be a great match for the client and their family. The composition of forms sits extraordinarily well on the site generating new and informal relationships with the river front, adjacent buildings and a newly designed garden. The judges felt that this was a remarkably consistent and friendly work of architecture.
Internal area 455.40 m²
Contractor R.W.Armstrong
Structural Engineers Franke Van looch Associates
Quantity Surveyor / Cost Consultant Baillie Knowles Partnership
Landscape Architects Anna Spruit