Hill House Passivhaus
by Meloy Architects
Client Meloy Architects
Awards RIBA South East Award 2019, RIBA South East Sustainability Award 2019 - sponsored by Michelmersh, RIBA South East Small Project of the Year Award 2019 and RIBA National Award 2019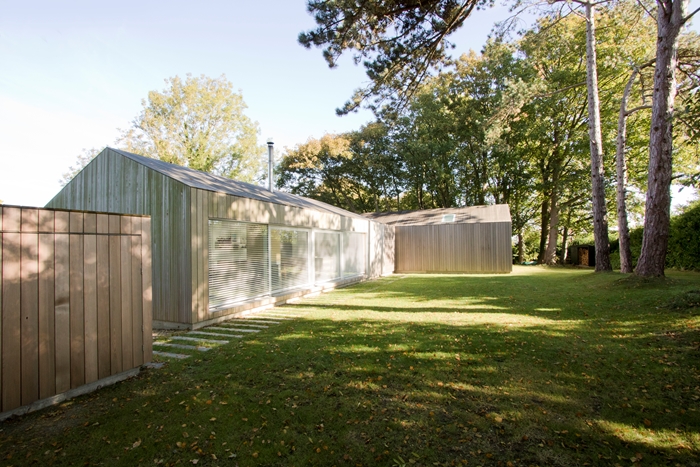 Hill House is an amazingly successful self-build housing project which is both architecturally sophisticated and achieves the best in low-energy house standards. The architect discovered the site on regular weekend walks across the South Downs. Difficult to access by vehicle, the plot housed a very low key small agricultural out building. Though not by any means grand, the site, located just below the crown of the hill, has great views across the landscape and is protected by screen of large mature trees. The architects brief was to build a house to accommodate his own family, achieving passiv house certification on a small, tightly controlled budget.
The resulting building is a sensitive, careful, almost modest, but beautiful response to both the site and the brief. Every decision has been examined through the filter of passiv house requirements, but without ever losing sight of the clear, elegant, modern architectural vision.
The building is single storey and comprises a calm and beautiful living space, with a compact bedroom wing set at a right angle. All the spaces have great quality of light, provided by a combination of windows and roof lights, with views back into the garden or across the landscape. The building has been put together with a great deal of care and attention to detail.
Internally and externally, the judges very much enjoyed the quality of space, use of materials and sophistication of thought and practice which had gone into completing the project. It has provided an opportunity to overcome the challenges set by passiv house, a chance to experiment with constructional and design ideas, a true test bed. But above all, a truly delightful family home.
Internal area 125 m²
Contractor Self build

Environmental / M&E Engineers Alan Clarke

Planning Consultant Pro Planning
Structural Engineers Reaction Engineers
CGI Renderings Flowstorm
Highways Consultants Reeves Transport Planning
Arboriculturalist and Ecology PJC Consultancy
Passivhaus Consultant APE architecture and design