Kent Downs House
by McLean Quinlan
Client Private Client
Awards RIBA South East Award 2019 and RIBA South East Project Architect of the Year Award 2019 - sponsored by Taylor Maxwell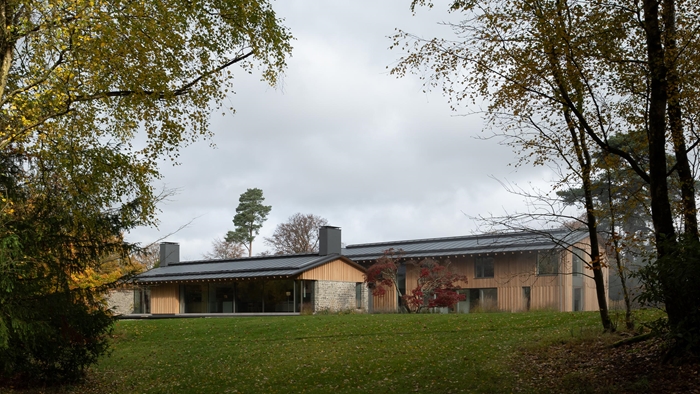 This beautiful house seduced the judges within the first few minutes of our visit. The house is built on the site of a former bungalow in a relatively large plot overlooking the South Downs, for clients who had previously spent many years living in South East Asia. The architects have managed to combine elements of both Kent vernacular and the spirit of South East Asia to produce a very beautiful, calm and contemplative living environment.
The project has a clear, understandable plan arrangement, with the main living accommodation housed in a grand single storey south facing block. This part of the building is slightly elevated from ground level and the plinth forms a wonderful terrace overlooking the garden and surrounding landscape. A second two storey block contains sleeping, office and utility functions. The point at which the two blocks meet forms an elegant, discreet the entrance to the house.
Overall, the building is extraordinarily well constructed, in simple, traditional materials brought together as a refined, elegant architectural language – a perfect fit for both the client and the site.
Internal area 693.00 m²
Structural Engineers Frank Van Loock Associates
Environmental / M&E Engineers En Masse Design
Quantity Surveyor / Cost Consultant Baillie Knowles Partnership LLP
Landscape Architects FFLO
Interior Design McLean Quinlan