Nithurst Farm
by Adam Richards Architects
Client Adam Richards Architects
Awards RIBA South East Award 2019, RIBA South East Building of the Year Award 2019 and RIBA National Award 2019
This project was shortlisted for RIBA House of the Year 2019.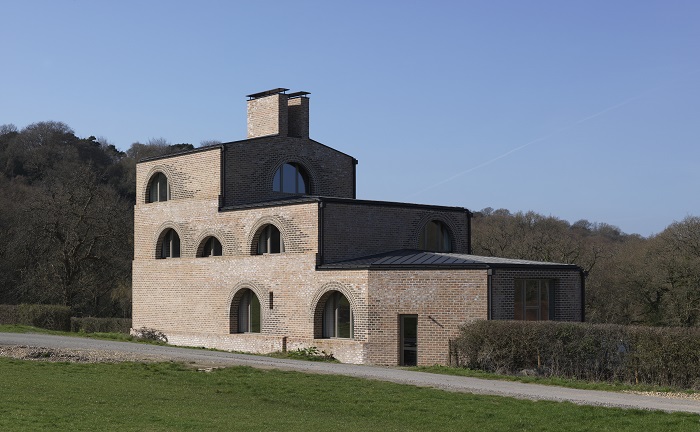 This extraordinary, single family house both enthralled and challenged the jury.
Poetically located in a secluded valley, the house occupies the site of a former modest farm house. The house relates both to a collection of pre-existing, low-key, out buildings - the remnants of a traditional farmyard and a ribbon lawn between old hedgerows forming a dominant east/ west axis. From a distance, it's intriguing form conjures memories of the defensive farm buildings of Italy.
As you get closer to the building, you become aware of a number of games of scale – storeys which may or may not be double height; traditional small-scale materials hiding grander openings beyond; and a form which having initially appeared simple, reveals a more complex geometry.
The external skin of the building is formed in traditional bricks, laid in wide-jointed, lime mortar. The wide joints increase the sense of mass of the building and the feeling that you are somehow looking at a reworked historic ruin. Openings in this skin are traditionally formed with flat and curved arches, but then visually 'smudged' by the addition of darker bricks around the openings.
The house is entered through a discrete, modest bootroom, opening directly off the farmyard. This compact, compressed space exaggerates the scale of what lies beyond. From here you enter directly into the heart of the house, and the complexity of the building starts to reveal itself. This space, the main family living accommodation, is modelled on a traditional great hall with abstracted versions of musicians' gallery, solar and rude screen. It is here that one also realizes that within the traditionally, modestly dressed farmhouse is a complex, concrete villa bursting to get out.
The Solar - a more intimate sitting room overlooking lawn and landscape, is accessed form the Great Hall as is the main staircase which winds up through intermediate floors housing children's and guest bedrooms, to the master suite with its spectacular view commanding the surrounding landscape. The design of the house was developed with a host of literary and cinematic references, which are deliberately, more, or less, explicit within the final expression of the building. The limited palette of materials, concrete, timber, brick, zinc, have been very carefully developed and detailed and give clear expression of the architectural thought process. The judges felt that the geometry of the building plan, and it's need for symmetry, whilst perhaps in some places is just a little forced, never becomes obsessive or overbearing.
The visit left the judges with the overriding memory, and this is a project above all to do with memory, that you are never sure whether you are within, or looking at, a glorious rebuilt, ruined folly, or a concrete villa that overtime acquired an overcoat of rural respectability. It is this intriguing, but enjoyable dichotomy, that successfully challenged our perceptions of both modern and vernacular architecture.
Internal area 397 m²
Contractor Garsden Pepper
Structural Engineers Structure Workshop
Services Engineer P3r Engineers
Drainage Design Bentons Design Consultancy
Lighting Design Lightplan Lighting Design
Principal Designer Head Projects Group
Quantity Surveyor / Cost Consultant MPA Associates