Writ in Water
by Mark Wallinger with Studio Octopi
Client National Trust
Awards RIBA South East Award 2019 and RIBA National Award 2019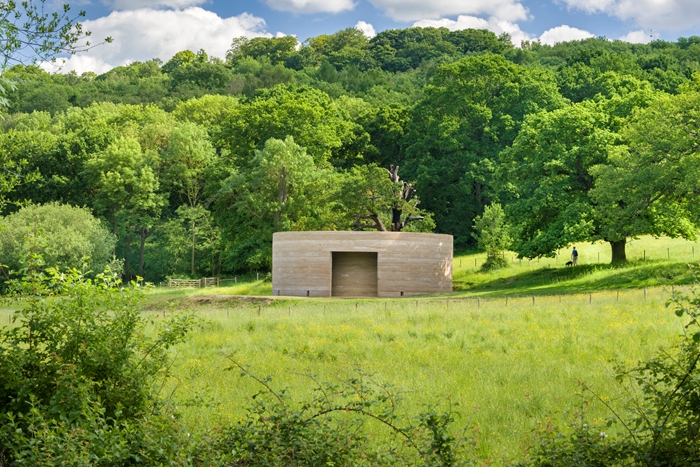 This project is at once both a work of sculpture and a work of architecture - the result of an almost unique, extraordinary collaboration between Artist, Architect and commissioning body. The project, the first large scale work of contemporary sculpture commissioned directly by the National Trust, was originally won in competition by sculptor Mark Wallinger and the resulting process has produced a remarkably poetic, and beautiful building.
Set in the flood plain of the Thames at Runnymede, the building is visible from some distance against the backdrop of lightly wooded hillside and marks the site of the signing of Magna Carta in 1215. It is approached on foot across, often boggy fields. The outside walls form a traditional rotunda and are constructed in compacted aggregate. The resulting surface is clearly rough, handmade and ready for an ongoing ageing process.
The entire built structure is governed by a measuring system which uses the ancient unit of the cubit as its base. The rotunda walls are one cubit thick, built in pours one cubit deep, and form a circular entrance cloister. This dark, shadowy cloister is lit solely by small openings at low level, and leads to an inner open roofed, circular courtyard. This central to the courtyard is a simple shallow pool edged in steel sheet and within which one can read, reflected in the surface of the water, Clause 39 of the Magna Carta.
This beautifully harmonious space encourages one to sit in stillness, contemplate the significance of the Magna Carta, the moment 800 years ago when it was signed, and the ever-changing sky.
It is a very special place.
Internal area 180 m²
Contractor Harris Calnan
Structural Engineers Built Engineers
Quantity Surveyor/Cost Consultants Castle-Davis
Planning Consultant Savills
Environmental Planning Consultancy RMA Environmental