Barton Science Centre, Tonbridge School
by BDP
Client Tonbridge School
Awards RIBA South East Award 2021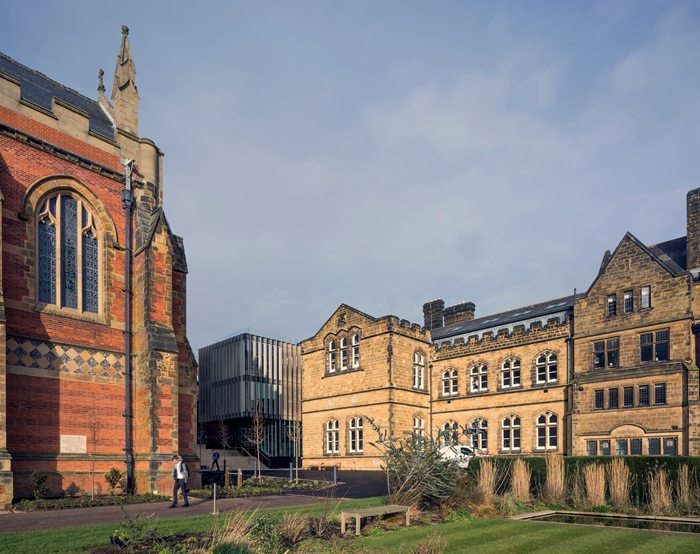 The new Barton Science Centre is the most significant development at the school in more than 130 years. This includes the full refurbishment of the original science building which is dated 1887 and was the first purpose-built science centre in the country. The project is named after the British chemist Sir Derek Barton, a Nobel Prize winner and ex-pupil.
This is a crafty piece of architecture, respectful to adjacent buildings of all ages, wedged into a tight site and delivering the very best teaching spaces on every level.
A combination of glass and perforated metal panels, separated by vertically arranged metallic fins, wrap around the entire façade. The fins echo the strong verticality of the adjacent Grade II listed chapel's stone mullions: Barton's work was the inspiration for the pattern in the perforated panels. At ground level, landscaped terraces of medicinal plants form social spaces and passers-by can look up to see experiments in action, presenting a theatrical and animated elevation.
When you first walk into the building, you are bowled over by the demonstration of the richness of the sciences and opportunities to learn. The triple-height atrium spreads before you physics, biology and chemistry on each level. Display cases, filled with student project work, interpretation material, and even a working beehive excite and inspire curiosity.
The shared atrium and high quality of teaching spaces are what set this project apart. The atrium's organic shape contrasts the orthogonal buildings and presents a softer heart to the scheme. The central sculpture in the atrium by Briony Marshall is based on Barton's research into the cyclohexane molecule.
The judges were impressed at the materiality and use of colour in the laboratory spaces combined with the leading-edge technology, bespoke desk design and the clever use of the perforated panels as ventilation grilles. Each detail of this new building, inside and out, has been well considered and executed, matched by the care taken to reveal and preserve key historical elements of the older science building.
At the top of the stair core, a delightfully detailed red spiral stair ascends to a greenhouse and rooftop garden. The greenhouse is a wonderful addition for hands-on learning and includes a telescope base for night sky observations. Up here amongst the chimney tops of the Gothic buildings unfolds a view that as a student you would rarely see. It is exciting and provides a different perspective on the school.
During our visit, both the client and the architect spoke of a shared desire to create spaces to inspire a new generation of young scientists. They have achieved this, without doubt. Overall, this is a brilliant new science building with a respectful and intelligent approach to the refurbishment of the existing building.
Internal area 3,555.00 m2
Contractor Baxall
Structural Engineers CTP Consulting Engineers
Environmental / M&E Engineers BDP
Landscape Architects BDP
Lighting Design BDP
Acoustic Engineers BDP
Quantity Surveyor / Cost Consultant Synergy LLP
Project Management Synergy LLP
Fire Consultant Fire Ingenuity