Hove House
by Turner Works
Client Baobab
Awards RIBA South East Award 2021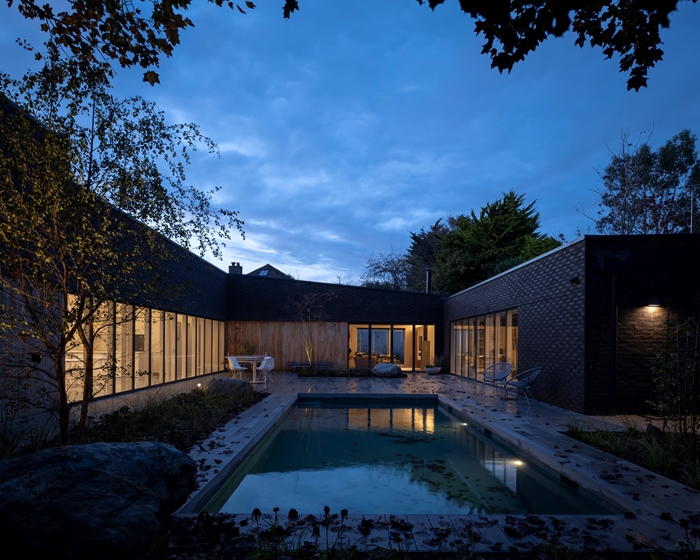 This new house is a series of simple brick forms, largely single storey, with mono pitch wildflower covered roofs, wrapped around a beautifully landscaped courtyard space.
The courtyard can be accessed directly from all living spaces along with the master bedroom. Guest and children's bedrooms are situated in a quieter area of the lower ground floor - each room with access to the lower garden.
A short flight of cast concrete steps leads you from entrance level to courtyard level. As you rise, the stunning courtyard view reveals itself and invites you into the heart of the house.
The spaces flow well together, the scale appropriate to a domestic setting, and the use of the exposed white-painted steel trusses throughout the interior and muddy, grey brick wrapping the elevations provides an overall unity to the scheme.
The changes in level throughout the building as you radiate further from the central courtyard are cleverly placed to bed the structure into the naturally sloping site.
An established wildflower roof attenuates rain-water run-off, improves summer cooling, and enhances site biodiversity. This is an important and delightful part of the overall project and a generous act of consideration to the surrounding neighbours.
Although hemmed in by the neighbouring buildings, the house manages to feel both light and open. Windows and doors frame key views and there is careful dissolution of solid boundaries between indoors and out, as the living spaces within flow freely to terraces, decks, courtyards and play spaces.
At every turn, the many textures, colours and materials contribute to a vibrant and playful mix: modern and bold but by no means minimalist. It is easy to imagine a party round the pool, reminiscent of Neutra's iconic Palm Spring house.
The jury thought this a successful collaboration between the architect and client and a wonderful house for living in - delightful and practical, with a robust quality that will only continue to improve with age.
Internal area 430.00 m2
Contractor The Magnificent Works Co
Structural Engineers Ian Wright Associates
Environmental / M&E Engineers Nu Planet Sustainable Solutions
Planning Dowsett Mayhew
Landscape Architects nd:studio
Lighting Design Light Bureau
Project Management Baobab Construction
Party Wall Surveyor Bowden Property Consulting
Structural Engineer Ian Wright Associates Ltd
Drainage Consultant Hodel
Pool Specialist Guncast
CDM Administrator Goddard Consulting