Lady Bee Enterprise Centre
by ECE Architecture
Client Shoreham Port
Awards RIBA South East Award 2021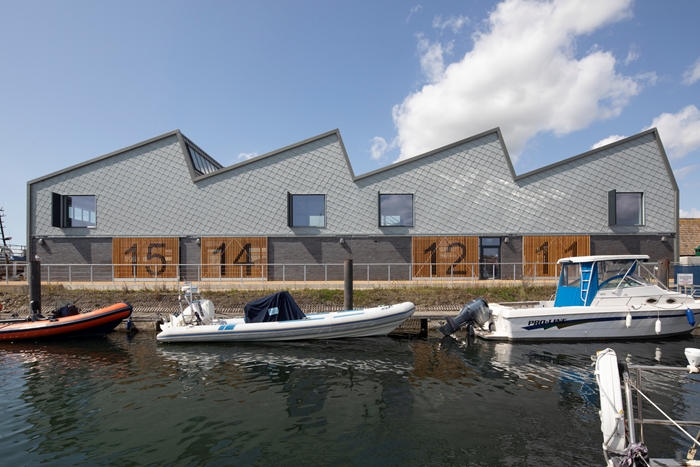 This development comprises three two-storey buildings, providing a total 14 individual business units built on a reclaimed parcel of land in the busy port of Shoreham Marina.
On approach through the busy dockyard, the sawtooth roof profile marks the location. The jury were immediately impressed by the architect's consideration in creating a distinct identity to the buildings that sets them apart from the standard light industrial typology in the port.
Windows are punched into the diamond-shaped shingled cladding - a pattern which is evocative of fish scales and, as the architect explained, a take on the local architectural vernacular of older buildings along the Southwick coast.
Perforated timber slatted sliding doors differentiate the façade facing the yacht pontoons from the other inward-looking elevations. The quality and robust nature of the detailing are impressive given the overall budget.
A series of carefully-positioned gaps in the in-situ concrete sea defence walls that wrap the development creates good permeability to the other areas of the port.
Inside the building, exposed steel frames, bolted connections and simple painted blockwork have an honest integrity. The tall spaces topped with generous north lights created by the sawtooth roof make the units feels like studios and creative spaces rather than standard office type environments. In doing so, it has an energy in keeping with the frenetic hustle and bustle of a working port.
The units are evidently very popular with tenants which are diverse and include artists, wind energy consultants, recycled bottling, and an autistic children's day care centre. All units were let and a sense of community exists.
The architect and client clearly have a good rapport and are now working on other commissions such as a quayside canteen which will sit alongside the Lady Bee scheme.
In a sector where budget usually drives standardisation of space, Lady Bee Enterprise Centre bucks the trend. It shows how a collaborative quality-driven response can raise the bar and deliver much-needed startup units which will provide long-term social and economic value to the area.
Internal area 1,313.00 m2
Contractor Pilbeam Construction
Quantity Surveyor / Cost Consultant MacConvilles Surveying Haywood
Structural Engineers Millwood Consultants
Services Engineer Delta Green Environmental Design