Pegasus Moor's Nook
by Coffey Architects
Client Lifestory
Awards RIBA South East Award 2021 and RIBA National Award 2021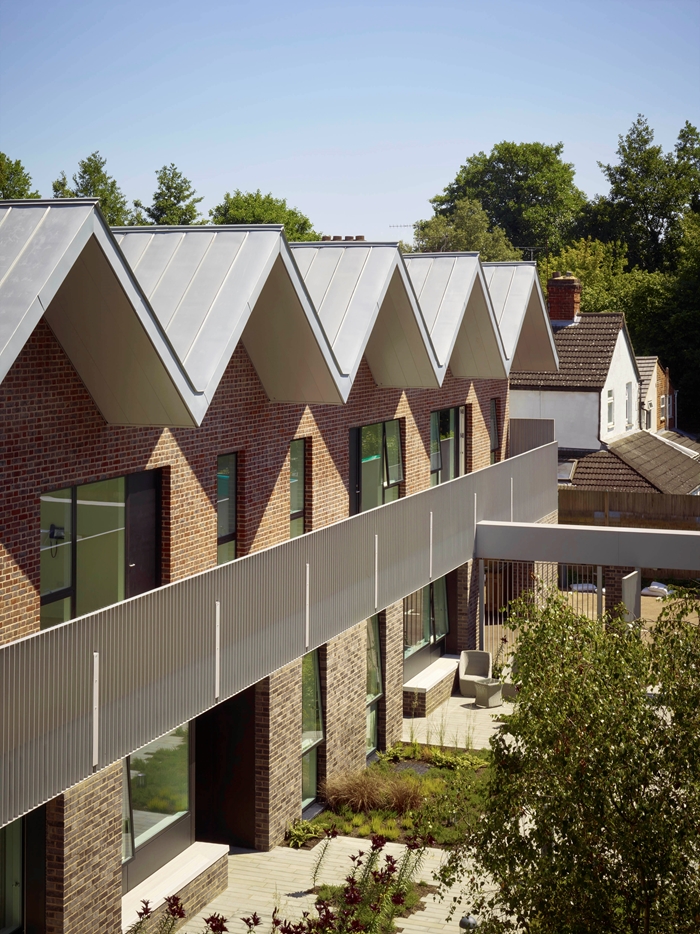 Pegasus Moor's Nook sits on the site of a former industrial laundry. The development of 34 flats for retirement living is arranged around a south facing landscaped communal courtyard.
This scheme works on many levels, with every small detail accumulating to make a highly responsive building to both its setting and to its many residents.
From the street, a brick-lined cloistered walkway leads through to a reception space and then on to a wonderfully secluded inner courtyard with decked access to the flats above. En route through the cloister, a series of built-in wooden seats offer both the public and residents a place to meet or relax and enjoy the morning sun. The architect's attention to these in-between spaces resonates through the whole scheme.
The building is clad in a combination of dark brown and red brick with a pitched seamed zinc roof - a reference to the industrial heritage of the site, further reinforced by a tall brick chimney stack on the north elevation.
Looking back at the buildings from a raised bridge across the canal, the zinc clad roof perfectly matches the ridgeline of the terrace houses directly opposite before rising up to front the longer view across to the cricket pitch.
The muted colours of brick façade and playful texturing of the brick bond create a calm and ordered façade, which is well detailed and appropriate to its civic riverside setting.
The apartments are spacious and enjoy a strong visual connection both to the wider views of the street on one side and to the private internal courtyard on the other. Full-height windows deliver plenty of natural daylight and cross ventilation to every flat.
On the ground floor, the courtyard entrance to each flat is carefully composed, with pockets of planting and sheltered window seats extending the threshold space. This offers residents a comfortable space to engage with others. The access decks above are generous in width to reinforce the idea of shared external space. Above this, the seamed zinc roof extends right over the access decks to create shelter and shade and provides a strong sense of enclosure to heighten the intimate nature of the courtyard. The balance between privacy and promoting interaction is handled with subtlety.
There is a real sense of wellbeing here and at no point do you discern this is a scheme designed for over-60s, or for any demographic for that matter. Quite the opposite: the architectural principles applied to such good effect have created a wonderful place to live, regardless of age.
Internal area 3,400.00 m2
Contractor Stepnell Ltd
Structural Engineers Symmetrys Ltd
Environmental / M&E Engineers Milieu
Quantity Surveyor / Cost Consultant PMP Consultants
Project Management Gleeds
Landscape Architects Camlins