The King's School, Canterbury International College
by Walters & Cohen Architects
Client The King's School, Canterbury
Awards RIBA South East Award 2021 and RIBA National Award 2021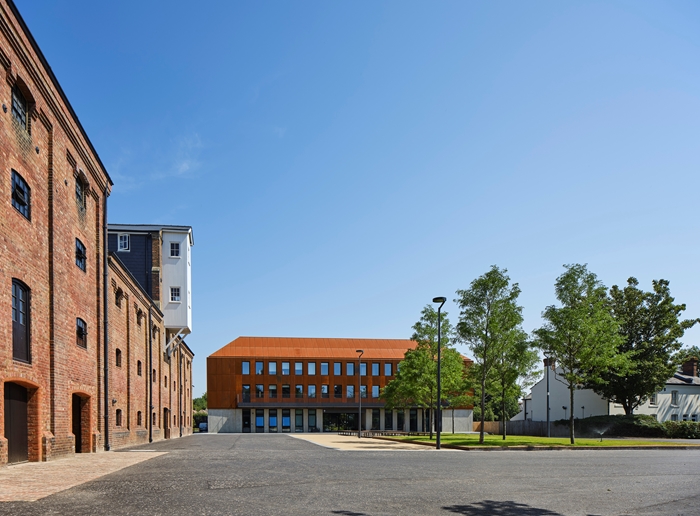 The International College is a simple but highly effective building, providing classrooms and communal spaces on the ground floor and accommodation above. It is boldly modern and does not attempt to copy the historic Malthouse adjacent, but in its honesty fits the former industrial site really well. It makes a new public square with The Malthouse, which will be used by visitors, but also creates a private space; a central courtyard for resident students.
With a simple palette of materials, it is an almost transparent structure at ground level, arranged around an attractive courtyard with a small stage, and provides comfortable accommodation above. It is a wonderful, relaxed environment for young international students who may be studying abroad for the first time. It is a great example of inside-outside connectivity, achieved through sliding doors opening into the courtyard, and offers safe outdoor accommodation whilst maximising visibility across the ground floor spaces for the resident house tutor.
The rusty Corten-wrapped new building complements the traditional red brick façade of The Malthouse next to it. Not content with just sharing facilities, the colour matching of the exterior materials and the referencing of the original floor tiles in the design of the expansive glazing ensures that the close visual connection of the two buildings is always felt. The architects of both buildings worked together and there are little moments of connection inside, like the use of the same light fittings.
The upper levels, housing the mixed-sex accommodation, are linked by a terrace that overlooks the courtyard and study areas within the shared corridors that encourage students to study together and form social bonds.
Internal area 3,539.00 m2
Contractor R Durtnell & Sons Ltd (ceased trading)
Quantity Surveyor / Cost Consultant Fanshawe
Project Management Fanshawe
Archaeological Consultant and Contractor Canterbury Archaeological Trust Ltd
Interior Design Walters & Cohen Architects
CDM(A) Holloway Squire Partnership Ltd
Planning Consultant Hobbs Parker Property Consultants LLP
Ecological and Arboricultural Consultant Lloyd Bore
Environmental / M&E Engineers Skelly & Couch Ltd
Structural Engineers Price & Myers
Civil Engineers Price & Myers
BREEAM Consultant Price & Myers
Landscape Architects Bradley-Hole Schoenaich Landscape
Fire Safety Engineers Bureau Veritas
Wayfinding Design and Implementation Management Whybrow Pedrola

Local Authority Building Control STG Building Control Partnership
Acoustic Engineers Pace Consult Ltd
Creative Direction and Graphic Design Studio Fernando Gutiérrez