Weybridge House
by Wilkinson King Architects
Client Private client
Awards RIBA South East Regional Award 2021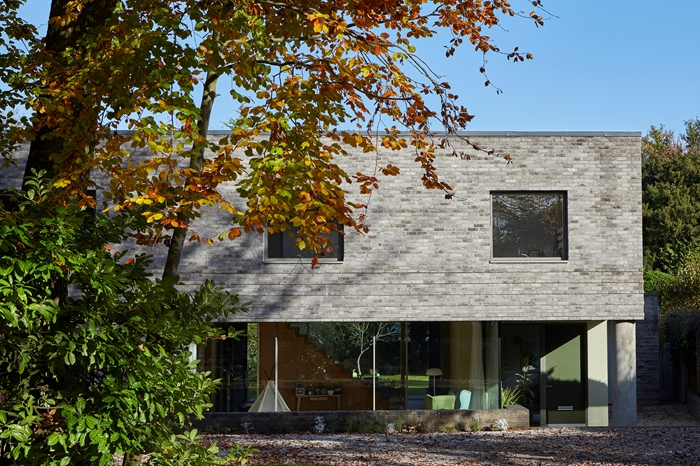 This new five-bedroomed house and photography studio creates a light filled family home for a young couple who work from home.
The front elevation is carefully composed, with an upper storey of handmade brickwork detailed with rustication of extruded horizontal coursing. This spans over a wide opening to the ground floor, allowing views right through the house to the garden beyond.
A series of brick steps brings you to a sheltered entrance courtyard, marked with a single oversized concrete column. The brickwork above extends down the façade and inside the building, leading you to arrive at the centre of the main internal space.
This house works exceptionally well in plan and section, the architect cleverly bringing natural daylight deep into the plan while seamlessly extending the living room into a south-facing external courtyard with wide glazing. Privacy from the neighbours is achieved by the architect gathering the utility rooms and storage areas neatly into two brick-clad wings that bookend both sides of the main living space. The top floor is efficiently laid out, with good sized bedrooms and bathrooms grouped around a stairwell that is positioned at the heart of the house.
Deep structural timber beams supporting the first floor and roof are deliberately exposed in the main spaces, visually connecting the whole house as a single building. Handmade brickwork and the timber ceilings lend a reassuringly solid, tactile feel to the house. This is deftly balanced against the lightness of floor-to-ceiling glazing which draws the inside and outside spaces together. There is a restraint in the limited palette of materials used, and the junctions between them are extremely well detailed and executed.
The inherent thermal mass of the building keeps heating and cooling demands to a minimum and deeply-recessed southerly glazing shades from the summer sun while allowing solar gain in winter.
There is an honesty and craft in the way the materials are composed, enhancing a well-thought-out and flexible plan to create a wonderful house that is a delight to the family.
Contractor Excalibur Construction Ltd
Structural Engineers Packman Lucas Structural Designers