​Dyson Campus Expansion
by WilkinsonEyre
Client Dyson
Awards RIBA South West Award 2017 and RIBA National Award 2017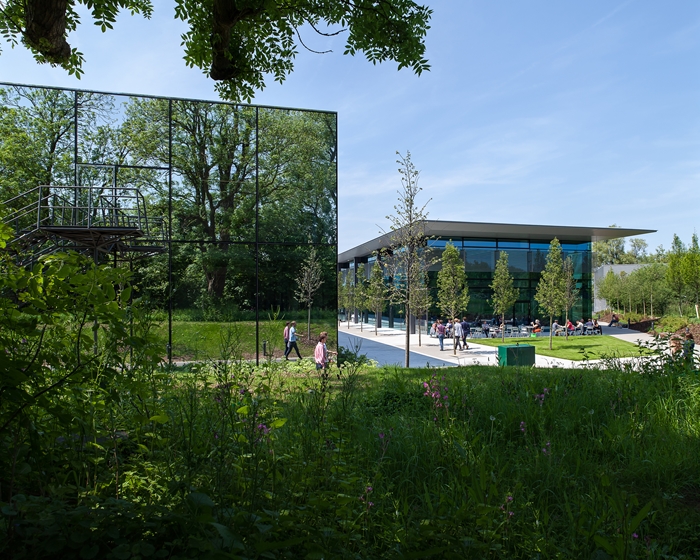 Impeccable and flexible. WilkinsonEyre designed the Dyson HQ and factory from 1996-1999, and has continued to work together through the next 20-year period. In 2016, the practice completed this phase of construction providing 12,000m² of new R&D facilities (D9) a café (Lightening Café) and a multi-purpose sports centre (The Hangar).

These 3 buildings are the latest additions to the evolving industrial masterplan, creating a town of 3000 employees and 129 advanced research laboratories and a range of collaborative work spaces for engineers on the single site, with student housing being planned for the site in the future.

D9 is conceived as a minimal reflective glass pavilion, disappearing into the landscape; offering a mirror to its surroundings and visual security for those working inside. A central atrium brings daylight into the two floors, the interiors facilitate flexible ways of working combining conventional desk space with laboratories. Internally the 4.2-metre-high ceiling exposed concrete soffits accommodate change from working areas to highly technical laboratories, the working areas are generally placed around the perimeter in good daylight and the labs in the core of the deep plan building.

Attention to all aspects of design detail was inspiring, the staff seemed relaxed and to enjoy working in the spaces. The Lightning Café/canteen building seemed very popular at lunchtime as we visited, The Hangar sports centre has also proved popular is highly flexible and can accommodate a range of gatherings.

What makes this nationally important is Dyson the company and its engineering design output that is clearly being matched by that of its architects who can respond to the ever-changing demands of a global brand.


Contractor ISG
Structural Engineer Buro Happold Engineering
Environmental/M&E Engineer Buro Happold Engineering
Quantity Surveyor/Cost Consultant MDA
Project Management Turner Townsend
Lighting Design Jake Dyson Lighting
Landscape Architect (Post Planning) Gillespies
Landscape Architect (Original Masterplan and Planning) LanDesign Associates
Internal Area 10,033 m²